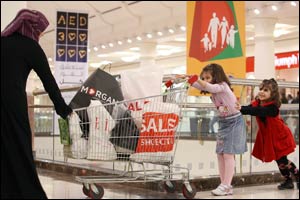 Issued by the Media Centre of the Dubai Festivals and Retail Establishment
January 1, 2015
• "20th Anniversary – A Journey of Celebrations" to run from 1 January to 1 February 2015
• From 1996 to 2014, DSF attracted 56 million visitors to Dubai, with a total spending of AED 145 billion
Dubai Shopping Festival turns 20 today (1 January), as it sets off on a 32-day "Journey of Celebrations" that promises to offer sheer excitement, world-class entertainment and unique shopping experiences aimed at showcasing Dubai as one of the best family tourism destinations in the world.
With this spectacular start to the New Year in Dubai, residents and visitors from around the world have the opportunity to experience a mix of over 150 unique events and activities that can be enjoyed in every nook and corner of the city of celebrations.
The 20th milestone edition of DSF will run until 1 February 2015 under the special theme "20th Anniversary – A Journey of Celebrations", promising a calendar of events, which breathes new life into the festival's key pillars of Shopping, Winning and Entertainment. The 20th anniversary slogan "Journey of Celebrations" is a reflection of the marathon journey undertaken by DSF for two decades, on its way to achieving international fame. The theme also is a reflection of the inspiring journey that visitors and shoppers go through when they visit DSF and enjoy its multitude of offerings and rewarding experiences.
The year 1996 saw the brainchild of His Highness, Sheikh Mohammed Bin Rashid Al Maktoum, Vice President and Prime Minister of the UAE and Ruler of Dubai – turn into a reality. The launch of the Dubai Shopping Festival (DSF) transformed the face of Dubai's retail sector into one that amazed the world by offering the best in both family entertainment and shopping in one destination. And the idea of introducing a tempting array of winning options worked like a magnet for thousands of visitors thronging to the city in search of a truly unforgettable holiday shopping experience.
Today, DSF, which is organized by the Dubai Festivals and Retail Establishment (DFRE), an agency of the Department of Tourism and Commerce Marketing (DTCM), is the longest running festival of its kind in the world and has truly become a citywide achievement that has grown from being focused on sales and promotions to providing unique shopping experiences through retail promotions and innovation.
His Excellency, Helal Saeed Almarri, Director-General, Dubai's Department of Tourism and Commerce Marketing (DTCM), said: ""The launch of the 20th edition of Dubai Shopping Festival is a landmark moment in a journey that began in 1996, based on the vision of His Highness, Sheikh Mohammed Bin Rashid Al Maktoum, Vice President and Prime Minister of the UAE and Ruler of Dubai. The success of Dubai Shopping Festival not only set the template for the city-wide festivals that followed, but it is also symbolic of the successful journey made over the last two decades in becoming one of the world's most visited destinations and must-experience cities. As the world gathers in Dubai to celebrate the 20th edition, we look forward to welcoming visitors who have never been to Dubai before and those who return year-after-year, and providing them with an experience to be remembered."
Her Excellency, Laila Mohammed Suhail, CEO of Dubai Festivals and Retail Establishment (DFRE), an agency of the Department of Tourism and Commerce Marketing (DTCM), said: "Throughout DSF's journey from when it began in 1996 to now, spanning two decades, we have had the opportunity to host millions of people from around the world and have also been successful at putting a smile on the faces of families and tourists who have taken home beautiful and unforgettable memories of DSF and Dubai. The success of DSF is also testament to the exceptional support extended to DFRE by other Dubai government entities and the private sector, especially our strategic partners and key sponsors. Today, as we open a new chapter in our historic journey, we encourage residents and visitors to enjoy DSF's 20th Anniversary offerings and multiple experiences that resonate with the festival's universal slogan "One World. One Family. One Festival."
The success of DSF as a game-changing initiative that has contributed towards Dubai's economy is evident by the fact that the DSF annually attracts on an average 4 to 4.5 million visitors with a total spending of AED 15 billion. The festival attracted 56 million visitors from 1996 to 2014, with a total spending of AED 145 billion, a resounding growth, considering that in its first edition, DSF attracted 1.6 million visitors resulting in a total spending of AED 2.5 billion.
DUBAI SHOPPING FESTIVAL 2015
"20th ANNIVERSARY – A JOURNEY OF CELEBRATIONS"
CALENDAR OF EVENTS AND ACTIVITIES
JOURNEY INTO MUSIC
DSF Celebration Nights
8, 9, 10, 15, 16, 17, 22, 23, 29, 30 January, Dubai Media City Amphitheatre
A mega concert series that will give residents and visitors from around the world the chance to dance the night away with 20 superstars of the Arab world. The series of concerts will be the biggest of its kind in the region, and is being produced in collaboration with Platinum Records, a 360 music entertainment company , owned by MBC Group, and in association with Dubai Media City. The line-up of famous Arab singers who will feature in DSF Celebration Nights includes Mohammad Abdo, Hussan Al Jassmi, Amr Diab, Ahlam, Nancy Ajram, Elissa, , Majed Mohandes, and many more.
WNO Orchestra
1 January, Zabeel Park
An extravagant musical welcome awaits families and visitors at Zabeel Park who are looking to celebrate the first day of the 20th edition of DSF on an euphonious note. The highly acclaimed Welsh National Opera (WNO) which has a permanent full time ensemble of 55 seasoned musicians will be at the park to usher in the festivities with 75 orchestra members joining this main opening event of Dubai Shopping Festival. Annually giving more than 120 performances globally, the orchestra performs a varied range of classical and popular music under programming by Music Director, Lothar Koenigs. Guest artists at the event will include Amjad Ali Khan, Xiang Zhang, Joanna Marsh and Cecile Licad.
KathNiel Live in Dubai
1 January, Sheikh Rashid Auditorium, Indian High School
Fans of the famous Filipino on-screen couple Daniel Padilla and Kathryn Bernardo also known as KathNiel will get the opportunity to watch their favourite stars perform at a concert this DSF. The show is being held in the UAE for the first time and promises entertainment for the whole family on New Year's day.
Arijit Singh Live Concert
15 January, Sheikh Rashid Hall, Dubai World Trade Centre
A Bollywood music concert featuring the highly acclaimed Indian playback singer Arijit Sing performing for the first time with a 50-piece symphony orchestra. Arijit is a trained classical singer who has performed in many stage shows. His career as a playback singer started when he participated in a singing reality show in 2005 while still in college. In the 2013 Bollywood blockbuster Aashiqui 2, his song Tum Hi Ho received a lot of praise and won many awards including the Filmfare Award for Best Male Playback Singer 2014.
Sonu Nigam in Concert in "THE EPIC EVENT - My Musical Journey"
16 January, Dubai Duty Free Tennis Stadium
A Grand Bollywood Musical Concert featuring India's No 1 Singing Icon, The Legend, SONU NIGAM, along with his 50-member troupe of co-singers, musicians, Artistes etc, in a 4-hour non-stop Bollywood musical extravaganza "THE EPIC EVENT-My musical journey", offering fans an unforgettable and memorable musical experience.
Zakir Hussain 's Nirvana 2015
31 Jan, Hall 6 Dubai World Trade Centre
The 'Legend' Ustad Zakir Hussain is back in Dubai to perform during DSF. The award-winning tabla maestro will take the audience on a musical extravaganza of percussion and melody featuring some of the greatest artists of our time. The concert features an eclectic mix of Instrumental Indian with Celtic/World Fusion. The maestro will be accompanied on stage by countrymen, Rakesh Chaurasia - an award winning composer and flautist, who plays the Bansuri, an Indian bamboo flute, Ganesh Rajgopalan, a Violinist, Vocalist, Composer and Teacher, and Navin Sharma, a renowned percussionist. They will be joined by Celtic artistes, Charlie McKerron, from Scotland, Patsy Reid, a popular traditional fiddle player in the UK, Jean Michel Veillon – a musician of French origin and Breton culture, , Fraser Fifield, one of the patrons of the Wind instruments in the Scottish Music Industry, Francis Kelly and Tony Byrne.
JOURNEY INTO STYLE
Abbati
Event from 19-20 January, Armani Hotel; Preview Exhibition from 14 - 16 January, The Dubai Mall
Back by popular demand is the abaya and traditional wear event 'Abbati' following its phenomenal launch during DSF's 19th edition in 2014. Abbati puts the spotlight on both regional and local abaya trends, as showcased by prominent homegrown talents from the Middle East. This year, as part of its various offerings, Abbati will include fashion shows, as well as a Abbati Retail Exhibition, featuring high-end traditional wear designers retailing merchandise in an exclusive modern setting at Armani Hotel, in addition to an exhibition promoting the event at The Dubai Mall.
Paris Gallery is the Hair and Make-up Sponsor.
The Diamond Fashion Show
14 January, Armani Pavilion – Burj Khalifa
Shining brilliantly in DSF's 20th edition calendar of events will be the world's most expensive Diamond Fashion Show. Diamond jewelry designers can look forward to showcasing their most exclusive collections to a private audience during the event. DHAMANI Jewelry is the Jewelry partner and Paris Gallery is the Hair and Makeup Partner.
DXB Fashion Photography
7 – 14 January, Mall of the Emirates
The International Festival of Fashion Photography from Cannes, which is a unique rendezvous dedicated to fashion and featuring fascinating pictures of fashion and beauty, is being brought to Dubai in the form of an event titled DXB Fashion Photography. The exhibition will feature 50 images of fashion and beauty by international photographers and 10 by local photographers .
MAC Instant Artistry
8-11 Jan, Bloomingdales Atrium, The Dubai Mall
This event will offer interactive experiences where customers can browse in their own time on ipads and watch videos showing how to create make up in minutes. If customers wish to elaborate on the tips and techniques shown then they will be offered complimentary make up applications with a make-up artist who will create a make up look for them on the spot. The event will also feature hourly Live Make Up Demos by the regional trainers of MAC Cosmetics.
RADO "DUBAI" Watch Launch
(Guest Appearance : Hrithik Roshan)
2-12 Jan, The Souk Atrium, The Dubai Mall
Bollywood star Hrithik Roshan will make his debut appearance in Dubai as a Rado brand ambassador to celebrate 20 years of DSF with Rado limited edition Dubai exclusive watches. He will launch the "DUBAI" watch at a special function at The Dubai Mall on 5 January at 6pm. Rado will also exhibit the exclusive limited edition of the DUBAI Watch at the Souq Atrium, The Dubai Mall.
JOURNEY INTO THE UNIQUE
Celebrity Pop-up Shop
(Giuliana & Bill Rancic – G by GR)
1- 17 January, The Beach – Opposite JBR
Fashionistas in Dubai have the fantastic chance to meet well-known fashion icons from the US, Giuliana Rancic and her husband Bill Rancic – stars of the popular Giuliana and Bill reality television series, who will celebrate DSF at the unique Celebrity Pop Up Shop. They will participate in various activities including an appearance by Guiliana and Bill on 1 January, an interactive style session followed by a Meet and Greet session with fans. Giuliana will also showcase her line "G by GR" at this event.
Etisalat Festive Park
1 January - 1 February, Zabeel Park
The Dubai Festivals and Retail Establishment and Etisalat are presenting a new concept, the Etisalat Festive Park featuring numerous fun-filled family-friendly events and activities at Zabeel Park. In addition to live music by the world-class WNO Orchestra on 1 January and the exciting Ripe Food & Craft Market, visitors to the Etisalat Festive Park can treat themselves to entertainment in the form of "The Circus Comes to Town" and also watch 'The Masters of the House' musical show, while children can participate in various fun competitions like the inflatable Knock –out Games.

Market Outside The Box (Market OTB)
15-24 January, South Ridge Park, Downtown Dubai
Market Outside the Box (OTB) – the region's first sustainable fashion and lifestyle marketplace featuring retailers operating out of stylishly refurbished shipping containers – is returning this year, much to the delight of shoppers looking to pick up a wide selection of sustainably produced fashion items, accessories, jewelry, shoes, bags, home décor, stationery and beauty products, in addition to organic food concepts. Musical stage performances, film screenings, workshops and industry-specific interactive sessions at Market OTB for families and individuals will add to the overall excitement in a lively al fresco setting.
The Smurfs Live on Stage – World Premiere
16-19 January, Hall 8, Dubai World Trade Centre
One of the main attractions of DSF 2015, the world premiere of Smurfs Live on Stage will be held at the Dubai World Trade Centre. It's every Smurfs favourite time of year: Spring! which means it's time for the annual Spring Parade. But with Gargamel their sworn enemy always on the prowl, they have to come up with every trick in the book to ward off this perennial threat and prevail. Catch the world famous Smurfs live in action in Dubai as they weave a magical music story that is bound to enthrall fans and families. Smurfs Live on Stage will have four shows during DSF, each show being of 90 minutes duration.
Ripe Food & Craft Market
1, 2, 3, 9, 16, 23, 30 January, Gate 1, Zabeel Park
The Ripe Food & Craft Market is a unique community event, offering a platform for talented local artisans and small business owners to showcase their businesses in an informal market environment, to both the local and expat community. After a healthy shopping spree with family and friends at the Market, visitors can round up the evening with WNO Orchestra – the opening event of DSF 2015 taking place on 1 January – which is inviting residents and guests to kick off the first evening of the New Year on a musical note with celebrated musicians and orchestra members.
Global Village
Until 11 April, 2015
The Global Village is Dubai's leading family entertainment and cultural attraction, featuring a unique shopping experience at several pavilions, each representing a different country. Visitors to Global Village are welcomed into a diversified but united world of joy, colours and rhythms to explore the world, one pavilion at a time. Launched in 1997, the Global Village is the place to enjoy and savour the international flavours of multiple cultures from around the world in surroundings that serve up a unique mélange of experiences including numerous native cuisines, dance forms, costumes, handicrafts and much more. Global Village timings are from 4pm to 12am Saturday to Wednesday, 4pm until 1am on Thursdays and Fridays while Monday is a Family Day (except public holidays). DSF information booths will be set up at Global Village along with a stage to hold the daily DSF Mega Raffle draws.
Carpet & Art Oasis
1 January – 1 February, Dubai Festival City
The Carpet & Art Oasis is a not-to-be-missed exhibition of some of the rarest, largest, and most unique carpets and rugs from various well-known carpet producing countries of the world. Showcasing a choicest selection of unique pieces, each offering its own charm with amazing designs and striking patterns, the Carpet & Arts Oasis offers visitors the chance to add elements of artistic decoration to their homes with a diverse line-up of art works and handicrafts also on sale.
City Decorations
Dubai is all dressed up for the grand celebrations with colorful decorations that radiate vibrant lights and captivating designs to welcome both residents and visitors alike. Ushering in the celebrations that invite families to enjoy an eclectic line-up of over 150 events and activities, Dubai has been transformed into a lively and artistic landscape for the month-long fiesta. Several locations in Dubai are decked up with beautiful lights and decorations aimed at creating a vibrant ambience and making the DSF 2015 an unforgettable experience for everyone.
JOURNEY INTO WINNING
Infiniti Mega Raffle
1 January to 1 February
The Infiniti Mega Raffle gives one DSF shopper the opportunity to take home a whopping prize worth AED 500,000 every day. The daily prize given away to one winner consists of two luxurious Infiniti models, QX60 and Q50, plus AED 100,000 in cash. Shoppers can participate in the Infiniti Mega Raffle by purchasing a raffle ticket for just AED 200 available at selected Enoc and Eppco petrol stations, Global Village, Gold Souk and at main streets. The DSF 2015 Infiniti Mega Raffle is being run in cooperation with Arabian Automobiles, the flagship company of AW Rostamani Group, a DFRE Strategic Partner. Further, DSF 20th Anniversary has a special surprise, as shoppers participating in the Infiniti Mega Raffle will get a second chance to win with over AED 2 million in additional prizes that will be up for grabs at weekly raffle draws. At these weekly draws, five lucky shoppers stand to win cash prizes of AED 100,000 each.
Nissan Grand Raffle
1 January to 1 February
The Nissan Grand Raffle will offer shoppers the opportunity to win a Nissan car every day and as a DSF 20th Anniversary Special, a Nissan Patrol every week. The Nissan Grand Raffle is being run in cooperation with DFRE Strategic Partners, ENOC/EPPCO and Arabian Automobiles, the flagship company of AW Rostamani Group. Customers are entitled to a raffle coupon for every AED20 spent at the convenience store ZOOM or at Pronto, AED 30 spent for a car wash at ENOC/EPPCO or AED 100 spent for an Oil Change or any AutoPro service. The raffle coupons will be entered into a daily draw for a Nissan car and a weekly draw for a Nissan Patrol, which is being given away as a DSF 20th Anniversary Special. Lucky customers can win one of 10 Nissan models in the daily draw – Micra, Sunny, Sentra,Tiida, Altima, X-Trail, Murano, Z370, Pathfinder and Armada. Buy a ZOOM DSF promo pack to triple your chances of winning a Nissan car a day or a Nissan Patrol weekly in the Nissan Grand Draw plus discount coupons from Pronto, Tasjeel and major retailers.
Gold and Jewellery Mega Raffle
1 January to 1 February
The Gold and Jewellery Mega Raffle is the biggest ever gold and jewellery promotion, offering shoppers spending AED 500 at any of the participating outlets the chance to win up to AED 15 million in prizes including 100 kg of gold and 40 carats of diamond across 32 days of DSF. In a fitting tribute to the DSF 20th anniversary, over 500 jewellery retail outlets across Dubai will participate in making the world's longest handmade gold chain named Dubai Celebration Chain spanning 5km in length.

"A Million Reasons to Shop" Promotion
1 January to 1 February, Participating Malls
Shoppers spending a minimum AED 200 at participating malls have the chance to win up to AED 1 million in prizes that will be given away in the form of cash and shopping vouchers in this promotion run by the Dubai Shopping Malls Group . It will also see AED 20,000 in cash awarded to 5 winners each week and a Mega Bumper Cash Prize worth AED 100,000 won by one person every week. On top of this fantastic offer, shoppers will also be given the opportunity to double their chances of winning, with instant scratch and win prizes worth AED 1000 each, to be given to 200 lucky shoppers.
JOURNEY INTO ENTERTAINMENT
MAMMA MIA!
2-10 January, Sheikh Rashid Hall, Dubai World Trade Centre
MAMMA MIA! the smash hit musical has been seen by more than 54 million people in 39 productions in 14 different languages. The award-winning show, which is celebrating 15 years in London's West End and is the 9th longest-running musical on Broadway, is now making an appearance in Dubai as part of the DSF 20th anniversary celebrations. Transformed to the big screen in 2008, MAMMA MIA! the movie starred Meryl Streep and Pierce Brosnan, and is the highest-grossing live action musical film of all time.
Romeo & Juliette- Les Ballets De Monte-Carlo
15 – 17 January, Madinat Arena - Madinat Jumeirah
A classical Ballet performance performed by the most acclaimed ballet company in Europe. This unique event featuring 40 dancers, is put together by one of the world's finest choreographers, Jean-Christophe Maillot. Shakespeare's timeless story of star-crossed lovers is a favourite with choreographers, and Jean-Christophe Maillot has created a new classic set to Prokofiev's masterpiece. Romeo and Juliet' the tragedy written by William Shakespeare early in his career was among Shakespeare's most popular plays during his lifetime, and at present belongs to a tradition of tragic romances stretching back to antiquity.
Celebration Fireworks
2 January – 1 February, The Beach – Opposite JBR and Fazza Beach
The special 20th anniversary celebrations of Dubai Shopping Festival beckon residents, visitors and their families to join in the world-class festivities, as spectacular fireworks shows illuminate the Dubai night sky like never before to mark the milestone occasion. A big hit with visitors, firework displays have become synonymous with the Festival since its inception, and is a reflection of the city's vibrancy and joy throughout DSF. From 2 Jan to 7 Jan, 15 Jan to 21 Jan and 28 Jan to 1 Feb, the grand pyrotechnics display will light up the skies over The Beach – Opposite JBR and from 8 Jan to 14 Jan and 22 Jan to 27 Jan the multicolour display will be at the Fazza Beach.
Dubai International Kite Fest
29 – 31 January
Dubai International Kite Fest (DIKF) would be the first large-scale events of its kind to be held in Dubai featuring a mix of adventure, fun and colours. Visualized as a family fun day out on the beach, DIKF would also see an attempt to break the Guinness World Record for the most kites flown simultaneously. The world record bid will be made on the last day of the festival.
The 5th Gr8! Women Awards 2015
12 January, Sofitel Dubai The Palm Resort & Spa
Having celebrated 14 successful years in India, this is the 5th Gr8! Women Awards in the Middle East. The awards are regarded the most coveted stamp of merit of its kind, recognising the contribution of women in various categories like art, cinema, science, fashion, environment, banking, business and education. The evening will be a red carpet star-studded event, with performances by a host of celebrities, and fans can line up at the red carpet to watch their favorite stars coming into the event including Neil Niting Mukesh, Richa Chadda and Surveen Chawla.
Hankook 24H Dubai
9- 10 January, Dubai Autodrome
This 24-hour motorsport endurance race has become a mainstay on the international calendar and is the 2nd largest 24-hour race grid in the world featuring participants from around the world. The line-up consists of over 80 touring and GT cars including Porsche, BMW, Ferrari, Audi, Lamborghini and Mercedes, to name a few.
Gulzaar Theatre Fiesta
15 -17 January, Centrepoint Theatre DUCTAC, Mall of the Emirates
A 3-day Theatre Fiesta, written by celebrated and internationally acclaimed, Bollywood writer, Gulzaar, showcasing the versatility of his writing and the dramatization by well-known Indian film and theatre director Salim Arif. The event will be followed by an extra day featuring an interactive session with Gulzaar.
Indian Republic Day Kavi Sammelan and Mushaira
29 January, Sheikh Rashid Auditorium, Indian High School
This poetry evening celebrates the Indian Republic Day with a host of prominent Hindi and Urdu poets coming together on the same stage. This event is being held for the 13th successive year in Dubai, as part of the annual DSF calendar.
ADDITIONAL CITYWIDE ACTIVITIES
Family entertainment
DSF will offer visitors many more events and activities that will further enhance the festival's image as a centre of shopping and entertainment. The events include a wide range of international shows at leading malls in Dubai featuring entertainers from different countries, who will be performing live on stage during DSF. Other events include Pinoy Fiesta, a family entertainment show featuring top artists from the Philippines; Latin Art Fest with the best of Latin art, music and food; the Little Superstars, a musical show by the "Pre Skool" group famed for their performances in Britain's Got Talent; Perch Creek featuring a band of five energetic multi-instrumentalists and vocalists; Spirit of the Orient, a show featuring some of the most spectacular and traditional Chinese art forms and music; From the West End to Broadway, that will stage some of the well-known musicals ever to have been staged shown in these two arenas of theatre; Caitlin , a Zambian-born electric violinist who has performed across the world and for royalty, and world leaders; B-Boying with Ballerinas, which combines ballet and break dancing, and much more.
SGI DUBAI 2015
11- 13 January, Dubai World Trade Centre
SGI Dubai is the most anticipated event for both exhibitors and visitors in the Middle East, Africa & Asia regions for Signage, Digital Signage, Retail Signage, Outdoor Media, Screen printing and Digital printing industries. Organized by International Expo Consults, the 18th edition of SGI Dubai will be held from 11th - 13th January 2015 at Sheikh Saeed Halls 1, 2, 3 & Arena -