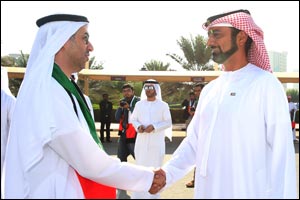 Under the Patronage and in the gracious presence of His Highness Sheikh Ammar Bin Rashid Al Nuaimi, Crown Prince of Ajman, Ajman University of Science & Technology officially celebrates the 43rd UAE National day amidst patriotic fervor. The event was initiated by signing the Letter of Loyalty to His Highness Sheikh Khalifa Bin Zayed Al Nahyan, President of United Arab Emirates. This is the fourth edition of the annual letter of loyalty sponsored by His Highness Sheikh Mansour Bin Zayed Al Nahyan, Deputy prime Minister and Minister of Presidential Affairs.
The Signing of the letter of loyalty was followed by releasing 43 huge balloons and thousands of smaller ones into the sky. Within minutes the entire skyline was covered in the hues of red, black, white and green balloons. The Marching band and the horsemen led the parade spearheaded by HH Sheikh Ammar Bin Humaid Al Nuaimi, Crown prince of Ajman; His Highness Sheikh Rashid Bin Humaid Al Nuaimi, Chairman, Ajman Municipality and Planning Department; Mr. Khalid Salman, Member of Board of Trustees of Ajman University along with Deans, Staff and students who walked towards the Sheikh Zayed Hall.
The throng of students followed the parade to witness the beautiful display of culture and heritage exhibited by the Colleges at the Hall. On the sidelines was an art gallery on display produced by the Fine Arts Centre at Ajman University, depicting the 43 glorious years.
At the end of the parade HH Crown Prince of Ajman officially initiated the 43 kilometers marathon honoring the 43 glorious years of United Arab Emirates. The university was abuzz with enthusiastic activity as students and staff celebrated the national day and enjoyed patriotism amongst their friends and peers on Campus.