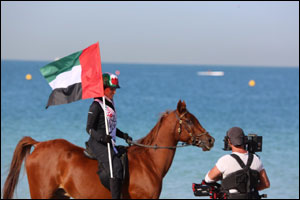 - Enjoy special AED 430 reductions on smartphones from du in celebration of National Day!
- du shares patriotic video and invites UAE community to participate to win AED20,000
Dubai, UAE, 29 November 2014: In celebration of the UAE's 43rd National Day, du has brought together people from multiple nationalities including Emiratis, to create a special video that captures the international community's love for the nation called #narzif. du is also encouraging people in the UAE to create their own celebratory video for the chance to win AED20,000, while the company's employees will recreate a setting of traditional Emirati hospitality to share the country's generosity and culture around National Day.
The video is available on du's YouTube channel, http://youtu.be/p_WJlNX2iUw, features a song, 'Narzif', specially written by poet and TV personality Saoud Al Kaabi with music composed by Khalid Nasser and Sang by Faisal Al Jassim, to which the traditional Razfa dance is choreographed. In addition to being filmed at renowned UAE landmarks, Emiratis in the UK and US participated too by dancing in front of famous spots such as in front of Buckingham Palace, and with the Hollywood sign.
Several social media influencers and celebrities participated in the video, including Saoud Al Kaabi, Wonho Chung, Diala, Max of Arabia, Karen, Ali Al Jasmi, Mthayel Al Ali, Sherif Fayed, Fahood Taymour, Hamoodi Bambi and Rashid.
Social media users are invited to create their own version of this National Day video to be submitted via the hashtag #Narzif on Instagram, video channels such as YouTube, Vimeo and so on with the link shared on Twitter or through their Facebook accounts. Five winners will be chosen from videos with the #Narzif hashtag, to win a prize of AED 20,000 for each. Videos can either be a recreation of du's Narzif song in the background, or the creators can show off their singing skills!
Exclusively for the 43rd UAE National Day, du is offering a special upfront flat reductions by AED 430 on all high end smartphones available in du Shops located across the UAE, as well as through its eShop, shop.du.ae, and Axiom stores, starting from the 1st December 2014. And, even more, customers will enjoy an extra 10GB on their 12 month contract! The special price and extra data allowance is available to all customers subscribing to a new Emirati Plan 250 and above, or a Smart Plan 300 and above.
Additionally, du recreated the spirit of the UAE National Day in front of its Head Office in Dubai Media City, where employees and visitors were invited to step back in time with the du family. A heritage village was created with authentic Emirati hospitality, traditional food, and more! Visitors had the chance to get their name written in Arabic calligraphy, capture the moment in a photobooth, and watch a traditional Ayala band perform.
Hala Badri, Executive Vice President, Brand and Communications, du, said: "On the occasion of the UAE's 43rd National Day, we would like to invite the people of the community we serve to celebrate this special time with us, in a salute to the myriad successes and achievements that our leadership has attained."