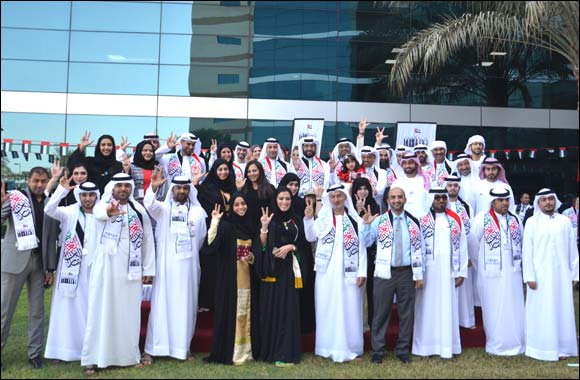 Colorful Cultural Performances, Recognition of National Employees Enrolling for UAE National Service Highlight Festivities
Dubai-UAE: 27 November, 2014 - Dubai Silicon Oasis Authority (DSOA), the regulatory body for Dubai Silicon Oasis (DSO), the integrated free zone technology park, today celebrated the UAE's 43rd National Day with grand festivities at the DSOA headquarters.
The celebrations were organized in the presence of Dr Mohammed Al Zarooni, Vice Chairman and CEO of DSOA, and DSOA staff, business partner and community members.
A special component of this year's celebrations included honoring DSO employees who had enrolled for the UAE National Service. The initiative holds strategic relevance and was endorsed by the UAE President His Highness Sheikh Khalifa Bin Zayed Al Nahyan, to boost the national spirit and ensure the development of national cadres capable of meeting future challenges.
The celebrations showcased traditional Emirati activities including the staging of folkloric performances Leawa and Ayyalla, highlighting the rich heritage of the country. Popular Emirati delicacies were also served at the event. As part of a staff contest, DSO employees showcased their patriotism by decorating their workspaces on the occasion.
Complementing the festive ambience, the DSOA headquarters was draped with the UAE national flag. In addition, the pillars in and around the building sported the UAE flag colors and 'Spirit of the Union' images.
Dr Mohammed Al Zarooni said: "The UAE National Day is a perfect time to celebrate the achievements of our leaders and the nation and to reconfirm our commitment to our leadership's vision. The country has today surpassed international benchmarks and notched up landmark accomplishments under the leadership of the President, His Highness Sheikh Khalifa Bin Zayed Al Nahyan. We are also pleased on this important occasion to recognize our staff members that have enrolled for the UAE National Service, a great initiative endorsed by our leader to empower our future generations and create young UAE leaders. Our appreciation is also due today to our national heroes as well as the millions of expats who live and work in the UAE."
Dubai Silicon Oasis is currently home to over 30,000 people residing and working in the high-tech free zone park that includes commercial and residential facilities, schools and other community services. A wholly-owned entity of the government of Dubai, DSO operates as a free zone technology park for large enterprises, medium and small companies looking to set up their offices in Dubai.