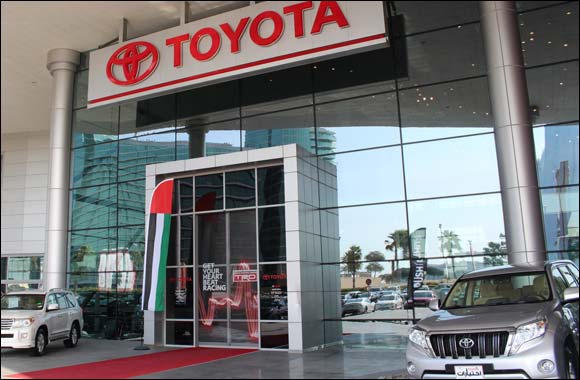 United Arab Emirates, Dubai, 2 November, 2014: Al-Futtaim Motors is marking the occasion of the UAE's 43rd anniversary by raising 43 national flags across its nationwide Toyota, Lexus and Hino facilities for a week-long celebration that will include commemorative cakes and gifts for associates and customers.
Al-Futtaim Motors will be sponsoring a number of activities, conducted by the company's strategic partners such as Dubai Government Workshops, Dubai Municipality and Dubai Taxi Corporation, as well as the CNCF Family Day in association with Hertz.
As one of the country's first businesses to be founded almost 60 years ago, Al-Futtaim Motors forms an integral part of the fabric of the nation and is a key driver for economic growth and prosperity as a large scale employer and provider of mobility solutions to individuals, private businesses and governmental and municipal organisations.
Jon Williams, Managing Director of Al-Futtaim Motors, commented on the occasion: "Al-Futtaim Motors prides itself on being part of the fabric of the nation, having been at the forefront of the automotive industry in the UAE since our inception."
Yousuf Ali Al Raeesi, General Manager, Government Relations, Health Security, Safety and Environment at Al-Futtaim Motors, explained the significance of this landmark day: "Through the past 43 years, we have witnessed the dynamism of the UAE, growing to become one of the world's leading nations in business and tourism. Under the leadership of His Highness Khalifa bin Zayed Al Nahyan, President of the UAE and Ruler of Abu Dhabi, we look forward to many more prosperous years to come."
Established on 2nd December, 1971, the UAE National Day is a celebration of the nation's independence and the joining of seven emirates under the rule of the late Sheikh Zayed bin Sultan Al Nahyan, the first president of the UAE and father of the nation.

The UAE has since seen unprecedented growth for one of the youngest nations in the world, and established itself as the region's business, trading and tourism hub.