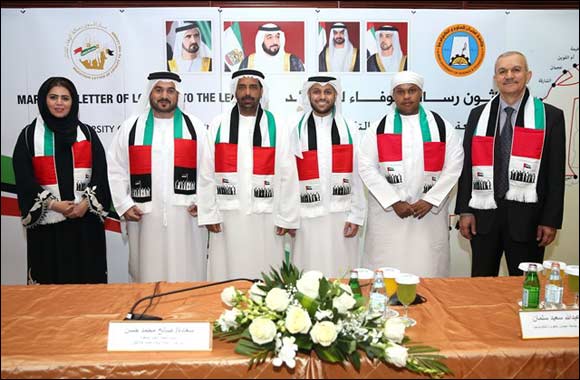 Ajman University of Science & Technology announced at a press conference its support to the "Letter of Loyalty" Marathon being held to celebrate the 43rd National Day of the United Arab Emirates. This year marks the fourth edition of this marathon which is held annually under the patronage of His Highness Sheikh Mansour bin Zayed Al Nahyan, Deputy Prime Minister and Minister of Presidential Affairs. It is the world's only and longest honorary marathon, which will be officially started in the city of Bida Zayed passing across the seven Emirates, reaching the Rulers Court in Abu Dhabi.
Mr. Abdulla Saeed Salman, Assistant to AUST Vice-President expressed Ajman University's honor of being an integral part of the marathon and reiterated the University's commitment to be part of all national events that encourage the students while instilling in them a sense of pride and belonging to their beloved country.
Saleh Mohamed Hassan, Member of Board of Directors of UAE Athletics Federation and the founder of this Marathon's idea, stressed the importance of the marathon and the noble message it conveys. The Marathon expresses the values of loyalty, belonging and love from the citizens and residents of the UAE to the leader of the country; H.H. Sheikh Khalifa Bin Zayed Al Nahyan, whose great efforts have encouraged and supported the citizens and residents of UAE.
Mr. Saleh thanked the University and its higher management for their strong support to the event, out of their belief in the significance of the meanings of loyalty and allegiance to the leader that the message carried. Ajman University is the first higher education institution to be part of this marathon. He pointed out that the message will be universal as it will be presented in the UN six languages, in addition to German. It will comprehensively express the love and devotion of the citizens and residents of this beloved land to their leader.
The press conference was attended by Dr. Abdul Haq Basheer, Director of the community service department at AUST; Eng. Mohammed Baloola and Ms. Fatima Bu Hagar, Head of Sheikh Mohammed Bin Rashid Al Makhtoum sports and physical fitness program at Dubai Police. Also in attendance were academic and administrative members of Ajman University.