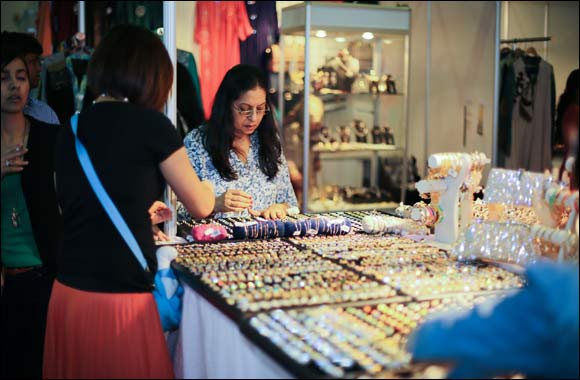 • One stop Eid shopping destination to offer fun activities, daily prizes and surprises
• 11 crazy deals for 11 nights of shopping.
• Dhs. 1 Mobile and Tablet biddings, win smartphone, international trips, free goodies and lot more.
July 14th, 2014; Dubai, UAE……………Dubai's popular and only night market during the holy month of Ramadan is all set to open its doors to public when it opens this Thursday, 17th July at Za'abeel Hall, Dubai World Trade Centre. Running until 27th July, the 11 day shopping fiesta will be on from 8:00 p.m. till 2:00 a.m. everyday with an easy access and free parking for visitors near Za'abeel Hall. Experience soulful shopping as the unique bazaar offers not just convenience but a wide variety of everything you need for Eid. Shopping assumes a new meaning at this popular market that offer residents and visitors the opportunity to buy from a wide range of merchandise. It is the ideal place to head to and pick up some of the best dealsfrom over 350 outlets showcasing home-grown and international brands with product categories ranging from clothing, fashion, accessories, cosmetics, health & beauty products, jewellery, perfumes, leather products, healthcare, electronics, toys & childcare, educational products, gift items, Eid gifts, souvenirs, collectibles, art, automobiles a variety of seasonal & festive food and many more exciting items. In addition to the tempting offers from the retailers,
In association with crazydeals.ae, Dubai's best online store, this year's market has brought in many exciting activities with crazy daily deals including international trip to various destinations through raffles draws, scratch and win cards entitling winners for prizes like mobile and tablet accessories and gift vouchers among others. Visitors can participate in the 'Spin the Wheel' contest and win a Smartphone. More interestingly, there would be a mobile and tablet bidding starting from AED 1. Simply take a photo and you may win a camera or win a gift through crazydeals' Facebook and Instagram campaigns. There will also be free goodies and other deals from the popular online store, additionally the fashionistas can try their luck and aim at grabbing handbags, perfumes and jewellery items through a Fashion Quiz. Shoppers visiting the Ramadan Night Market will also have the opportunity to win two cars as prizes, a Mitsubishi Attrage and Mitsubishi Mirage. Every shopper visiting the Ramadan Night Market will get a raffle coupon, which will be entered into two draws, on 19 July and 27 July. Additionally, a Facebook competition offers a chance to win a car, a Chery ESby simply visiting the Ramadan Night Market. Visitors can look out for the Chery E5, take a selfie with the car, upload it on the Ramadan Night Market Facebook page through the competition tab. Get the maximum number of likes / Votes and the winner takes home the car. The winner of the Facebook competition will be announced on 4 August.
Sunil Jaiswal, CEO Sumansa Exhibitions, organisers of Ramadan Night Market said, "We have come a long way since our inaugural edition in 2012, we are bigger, better and more exciting marketplace with matchless family bonding opportunities. People are eagerlywaiting for the market to begin and we aim to provide visitors great ambience, unique shopping experience, , great deals and offers from participating retailers coupled with fun, food, excitement and many surprises".
Expecting a footfall of about 100,000 visitors over 11 days, some of the leading exhibitors to be seen at the event include du, Etisalat, Lifestyle Fine Jewelry, N. GopaldasDiamond Jewellers, Sona Bazar LLC, Tia Fashions LLC, Cool & Cool, Bellissimo General Trading LLC,Hamasat Accessories, Aneeq Fashions, Yallamomos, Bikanerwala, Pizza Express, Cha Cha Chai, Gelato Divino,Mr. Wok, ChatoriGali, Lipton, Belhasa Driving Center, Emirates Driving Institute, Gold's Gym International etc. among others.
The event is sponsored by Al Habtoor Motors and Emirates NBD (Co-Platinum Sponsors), Armaf Luxury French Fragnances/Sterling Parfums (Gold Sponsor), Arwah, Crazydeals.ae, Golden Apple, Al Islami, Kemos Retail and Mox It (Silver Sponsors).

EXPERIENCE THE EXCITEMENT! Buy special EID gifts for your loved ones at this shopper's paradise and enjoy the fiesta:
• What: Ramadan Night Market
• Where: Za'abeelHall,Dubai World Trade Centre
• When: 17th to 27th July 2014
• Timing: From 8:00 p.m. – 2:00 a.m. daily
• Entry: Free entry for all
• FREE Parking for all visitors near ZA'ABEEL HALL
• "Offers at the Show" Booklet: Get your exclusive copy of this specially created booklet to know what BEST DEALS are on offer by each of the retailer, it contains details of all outlets at the market, price range of all products, offers/discounts being offered by each one. With over 350 outlets at the show this booklet helps you single out the best deals and revisit the show!
Sumansa Exhibitions - +9714 3885191 , www.ramadannightmarket.com
Facebook:https://www.facebook.com/RamadanNightMarket
Twitter:https://twitter.com/RamadanNightMkt
Instagram:http://instagram.com/ramadannightmarket