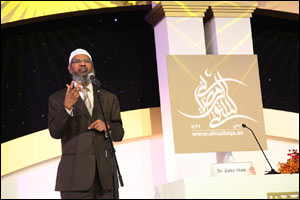 • Highlights include Dubai International Holy Quran Award and Ramadan Forum
• Opportunity to be enlightened on Islam and its traditions, and to participate in charitable and community activities
Dubai is set to further enhance its position as a year-round family tourism destination with the launch of the fourth successive "Ramadan in Dubai", which will witness a transformation of the city into a hub of Islamic culture and learning, through numerous activities inspired by the spirit and values of the Holy Month.
Organised by the Dubai Festivals and Retail Establishment (DFRE), an agency of the Department of Tourism and Commerce Marketing (DTCM), "Ramadan in Dubai" will run from 29 June to 27 July, giving residents and visitors from around the world the opportunity to savour a unique cultural and community experience in the month of reflection and self-restraint .
"Ramadan in Dubai" will allow people to learn, share and feel the true values of the Islamic faith through special events like the Dubai International Holy Quran Award and the Ramadan Forum, and also offer families and children an array of diverse options to keep themselves engaged through activities such as the Ramadan Night Market, Summer Camps, Modhesh World and Dubai Sports World. "Ramadan in Dubai" has also galvanized the retail sector into coming up with a number of special offers, deals and discounts aimed at capturing the attention of Ramadan shoppers.
Her Excellency, Laila Mohammad Suhail, CEO of the Dubai Festivals and Retail Establishment (DFRE), an agency of DTCM, said: "With Dubai being a leading family tourism destination , and home to many cultures, 'Ramadan in Dubai'" will showcase the emirate's diverse tourism offerings within a modern Arabic setting while still retaining its Islamic values and roots. The various cultural and community-oriented activities of "Ramadan in Dubai" will focus on the values of the Holy Month such as compassion, giving and sharing, and strengthening of family bonds, as well as offering people from different cultural backgrounds a valuable insight into Emirati, Arabic and Islamic traditions. "Ramadan in Dubai" has been developed for the whole community under a common platform of collaboration between the government and private sectors and it is inspired by Dubai's Tourism Vision of increasing tourism arrivals to 20 million by the year 2020."
"Ramadan in Dubai" is the second part of DFRE's 2014 summer calendar and a wider "Summer is Dubai" campaign mounted by DTCM to position Dubai as the summer destination of choice. Other festivals and attractions in Dubai's summer line-up are Modhesh World, the popular indoor family edutainment destination at Dubai World Trade Centre, which runs until 8 September; Eid in Dubai from 28 July to 1 August, a grand celebration of the Eid Al Fitr festival that will involve people from all communities, and the renowned family summer extravaganza, Dubai Summer Surprises from 2 August to 5 September.
From his side, Hamad Bin Mejren, Executive Director of Business Tourism for DTCM and General Coordinator for the 13th Ramadan Forum, said: "'Ramadan in Dubai' festivity is a great way to showcase how Dubai celebrates this joyous occasion. We aim to highlight the many cultural, social and spiritual events that we have to the wider audience. Let everyone enjoy the serenity of the Holy Month."
Bin Mejren also added that one of the main components of "Ramadan in Dubai" is Al Multaqa (Ramadan Forum), which comprises many events inspired by the values of Ramadan. "We have invited several leading, inspirational speakers from across the region to participate this year as part of Al Multaqa live lectures. These lectures will also have instant translation in various languages. In addition, we are organizing several public Iftars, Ramadan awareness programs for Muslims and non-Muslims, health tips for fasters, and many more."

RAMADAN IN DUBAI 2014 EVENTS AND ACTIVITIES
Dubai International Holy Quran Award
One of the main events of 'Ramadan in Dubai' is the Dubai International Holy Quran Award which is an annual award given for memorisation of the Quran sponsored by the Government of Dubai. The 18th Dubai International Holy Quran Award will have as its main component the international Quranic contest featuring participants from across the Muslim world, and will also feature a series of lectures highlighting Islamic values.
Ramadan Forum
Dubai World Trade Centre: 3-14 July
The 13th Ramadan Forum, under the patronage of HH Sheikh Ahmed bin Mohammed bin Rashid Al Maktoum, Chairman of the Mohammed bin Rashid Al Maktoum Foundation, will feature an inspirational line-up of educational activities, training workshops, lectures that will discuss key religious and social issues, and educational activities. The forum will help spread cultural and social awareness among different cultures, and help create a deeper understanding of Islam among nationals and expatriates. This year, the Arabic presentations including speeches will be simulcast to English live for the benefit of non-Arabic participants. The Ramadan Forum will feature inspiring lectures from Islamic scholars in Arabic, English, Tagalog, Malayalam, Urdu and in Bengali, a new language to be introduced at the Forum. The Forum also features the "Preacher of the Nation 2014" competition designed to unearth and support promising talents in their endeavours to be leaders of the future. The contest this year will include a new category featuring religious sermons in English.
Quran Reciters
The Islamic Affairs and Charitable Activities is organizing two activities showcasing the eloquence and talent of Quran reciters from 1 to 29 Ramadan. The Rashidiya Grand Mosque will host the Dubai Reciters, an activity that will be held under the patronage of His Highness, Sheikh Mohammed Bin Rashid Al Maktoum, Vice President and Prime Minister of the UAE, and Ruler of Dubai. This will feature renowned reciters of the Holy Quran leading the congegation at Isha and Taraweeh prayers. A separate initiative for UAE Reciters is aimed at encouraging Quran reciters among the local community to showcase their talent by eloquently reciting the Holy Quran. It will see participants leading the congregation at Isha and Taraweeh prayers daily at Al Warqa Mosque.
Modhesh World
Dubai World Trade Centre: Throughout Ramadan and until 8 September
For families and children who wish to engage themselves in educational activities in an entertaining way, the ideal place to visit is Modhesh World, one of the region's largest indoor family edutainment destinations, that will be open throughout 'Ramadan in Dubai' and beyond until 8 September at the Dubai World Trade Centre. Launched in 2000, Modhesh World is celebrating its 15th anniversary this year in grand style by hosting the World Premiere of two interactive experiences featuring the Angry Birds Universe and Transformers. Kids stepping into Modhesh World will instantly feel welcome and excited at the ensemble of games, contests, activities, workshops and more that cuddly Modhesh, Dubai's popular mascot, has brought for the young ones, pre-teens and teenagers.
Modhesh World offers kids the opportunity to learn in a fun and relaxed atmosphere, and in a fully air-conditioned, child-safe environment. During Ramadan, it will be open from 12pm to midnight on all days except Fridays, when it will be open from 5pm to midnight.
Ramadan Ambience
The attractive décor across the city will capture the essence of the Holy Month while malls in Dubai will also be dressed up for the occasion and be undertaking several activities designed to offer visitors and shoppers moments of enlightenment and the opportunity to absorb the serenity of this occasion.
Ramadan Tents
Several leading hotels and other public places will be hosting Ramadan tents for those wishing to break their fast at Iftar, as well as having meals during Sohour. A number of charitable events will also add to the spirit of giving and sharing during this revered month.

Summer Camps
Dubai Outlet Mall: 28 June to 06 September
Dubai Sports City: 06 July to 16 August
Reef Mall: 20 July to 06 August
These summer camps are organised in association with DFRE and Knowledge and Human Development Authority and Ministry of Education, Dubai Educational Zone. Some 100,000 registration forms have been distributed across more than 100 schools. Kids between the ages of 3 and1 6 can participate for free. Each participating student gets one session free at any or all of the venues.

"Eidyat Dubai" Promotion
Participating Malls in Dubai
Shoppers spending AED 200 at a participating mall will have the opportunity to win up to AED 2 million in prizes in the 'Eidyat Dubai' promotion at participation malls across the city. The promotion begins on 15 July coinciding with the final stretch of Ramadan shopping, allowing each winner to take home a fabulous Eid gift. Shoppers have the chance to win prizes of up to AED 1.5 million in cash and AED 500,000 in shopping vouchers. The promotion will run until end of Eid with the first draw scheduled for 26 July. Residents and visitors can also continue to avail themselves of attractive bargains and deals including discounts of up to 75 % that are being offered at malls and retail outlets in Dubai.
Ramadan Night Market
Dubai World Trade Centre: 17 - 27 July
Night shopping assumes a new meaning at this popular market that offer residents and visitors the opportunity to buy from a wide range of merchandise at Dubai's only night market during the Holy Month of Ramadan. It is the ideal place to head to and pick up some of the best bargains from over 350 outlets showcasing home-grown and international brands with product categories ranging from food Items, garments and leather items, electronics, perfumes, home appliances, accessories, furniture and handicrafts, toys and baby Items, automobiles, souvenirs and collectibles, to name a few. In addition to the tempting offers from the retailers, Ramadan Night Market offers a great ambience with loads of fun, frolic and family time. Shoppers visiting the Ramadan Night Market will also have the opportunity to win two cars as prizes, a Mitsubishi Attrage and Mitsubishi Mirage. Every shopper visiting the Ramadan Night Market will get a raffle coupon, which will be entered into two draws, on 19 July and 27 July. Additionally, a Facebook competition offers customers a chance to win a car, a Chery ES. The winner of the Facebook competition will be announced on 4 August. Timings are from 8pm to 2am daily.

.
Dubai Sports World
Dubai World Trade Centre: 11 June – 30 August
Sports enthusiasts who are keen on participating in sports activities, even during the summer, can do so without feeling the heat. One of the largest indoor sports destinations in the Middle East will opens its doors for over two months to offer those with a penchant for sporting excitement the opportunity to be a part of the action within a professional standard and air-conditioned arena. The purpose-built indoor sports facility will feature action and excitement across the sporting spectrum –football, rugby, basketball, badminton, volleyball, table tennis, and much more.
UAE 9 Ball Arab Open Championship
Flamingo Billiards (Oud Metha): 10 - 19 July
Held under the patronage of His Highness Sheikh Maktoum bin Hamdan bin Rashid Al Maktoum, the 1st UAE 9Ball Arab Open Championship 2014 will feature both amateur and professional billiard players from across the region. Spectators at the open championship, which is organised by Pro9 Sports, will also get the chance to participate in some exciting activities on the sidelines. The aim of this tournament is to promote billiards in the UAE, as well as encourage youth to remain involved in activities that would help keep them physically fit and also broaden their horizons from an intellectual perspective.
Nad Al Sheba Sports Tournament
Nad Al Sheba Sports Hall: From 2 to 23 Ramadan
A sports tournament offering free participation to members of the public, amateurs and professionals in the local sporting arena.The event features a number of sports including squash, athletics, volleyball, paddle tennis, and cycling.

For further information, call Ahlan Dubai on 600 555 559 or visit www.ramadanindubai.ae