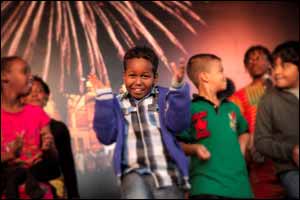 • Children aged 12 and under to enter Global Village for free on Monday Family Days at Global Village throughout February
• Visitors to receive 10 dirham off voucher for every 60 dirhams spent at selection of  popular restaurants in Global Village  throughout the month
Dubai, 1, February, 2014: Global Village, Dubai's leading family entertainment and cultural destination, is giving families more reasons than ever to spend their time at Global Village by launching a special new family promotion. It will allow children under the age of 12 to enter Global Village for free every Monday during February giving families visiting Global Village a chance to spend even more quality family time together.
The promotion also includes an offer for the visitors to redeem AED10 vouchers for every AED60 they spend at a selection of popular Global Village's restaurants. The funfair discount vouchers have been replaced to allow visitors to enjoy the diverse cuisine that can be found at Global Village. Participating restaurants will be mentioned on all vouchers.
Ahmad Hussein, Executive Director of Operations, said: "We want to make this February as special as possible for families when they visit Global Village. These promotions are another way of Global Village giving something back to our guests and allowing them the chance to experience more at Global Village. By letting children aged 12 and below enter for free, on Mondays, parents have the chance to take their kids on more rides and games and get closer as a family."
Visitors taking advantage of the promotion will have a whole host of new performances to watch in February. With the children's story driven 'Fairytales on Ice'; the dynamic and rhythmic 'Argentinean Gauchos', and the acrobatic and high flying 'All Star Dunkers'. All these shows will take place, as well as the high energy 'Orbis' and 'Level Up' shows on Global Village's Culture Stage.
Global Village will also be continuing its cultural shows from individual pavilions to give families a memorable and lasting experience with these shows taking place both on special stages in some pavilions as well as on the main cultural stage.
Global Village's gourmet restaurants and vast number of kiosks will be serving up the favorite foods from around the world. With over 25 internationally recognized restaurants set up around the park to satisfy your whole families tastes.
-End-