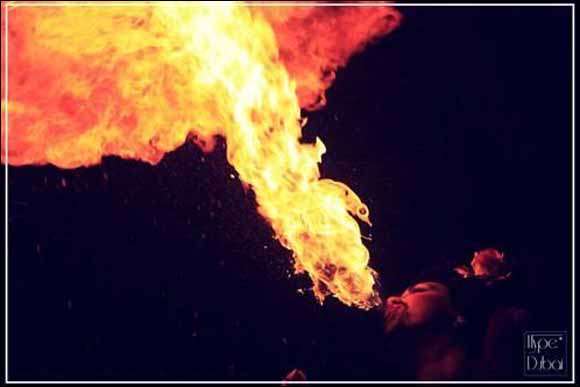 Dubai, UAE – Anne-Marie Inc., a lifestyle-consulting agency specializing in image brand development, special events and lifestyle VIP services, opens the darkest and most decadent underground circus experience known as the Big Apple Circus at Cirque Le Soir Dubai. The Big Apple Circus brings to the stage an enchanting show complete with a narrative conveyed through traditional New York Coney Island circus and theatrics.
Roll up! Roll up! And step inside a spectacular extravaganza of circus beauties and sideshow freaks. At the Big Apple Circus, guests can feast their eyes on the bearded lady, the world's smallest man and many more delightful and delectable creatures of the carnival. It is definitely Dubai's only adult playground transforming the stage into a theatrical show like nothing anyone has ever seen. Tasty morsels of the fairground are also served as the story unfolds before the spectators' very eyes.
The Big Apple Circus is an event happening on one Friday of the month and began on 17th of January, 2014.Curtains will be open once again on 21st of February, 2014. The big top is only accepting invited guests from 10:00pm until 1:00am, while the weekly Freaks and Beats still welcomes partygoers afterwards until 3:00am.
"I am excited about the launch of Big Apple Circus. This has never been done and seen before in the country. The concept is inspired by the captivating circus theatrics of my hometown, New York. Our aim is to build an elite underground venue that takes our VIPs back in time to that classical circus, thrilling, electric and real," says Anne-Marie Martinez, CEO of Anne-Marie Inc.
Anne-Marie and her team have over 18 years of experience in nightlife marketing across the world. They are now behind Pragma Group's special events and VIP services for its opulent venues. The companies' partnership creates an all-access key to a glamorous life for both their clientele.
Anne-Marie Inc. recently brought a successful night called "Cavalli 54" at Cavalli Club, Restaurant & Lounge. Big Apple Circus is her next project poised to infuse another fresh New York vibe to the city of Dubai.
About Pragma GroupPragma Group is an organization that balances the art and science of business. Focusing on two essential areas of today's modern world, lifestyle and technology, Pragma Group blends skill and investment to grow brands within these two industries using the most effective business models and partnerships to make it happen. 
Pragma Lifestyle is the division of the group that specializes in the entertainment, fashion, leisure and hospitality industries. Ranging from the homegrown to the globally prestigious, Pragma Lifestyle's portfolio includes several leading brands such as Cavalli Club, Restaurant & Lounge, Cavalli Caffé, Cirque le Soir, Bo House Café, Health Factory, Lina's Café and Epicure Catering.
Other sectors of Pragma include Pragma Technologies, Pragma Management International, Pragma Venture Capital and Pragma Marketing. Pragma Technologies,  is a group of companies covering the IT and Telecom spectrums from all angles including Systems Integration, ERP Implementation, Networking, Mobile Phones Distribution, Gaming Consoles Distribution, and Gaming Publicizes Distribution. Pragma Management International is the group's management arm, under which are White Label, Three Dots, Paragon. Pragma Venture Capital's core responsibility is identifying and incubating new opportunities in the market and initiating them, and Pragma Marketing houses Dynamic Motion offering holistic communications and events solutions.
With unsurpassed experience garnered over many years in the Middle East and beyond, Pragma Group offers sustainable success for its businesses, partners and investors from around the region and the world.