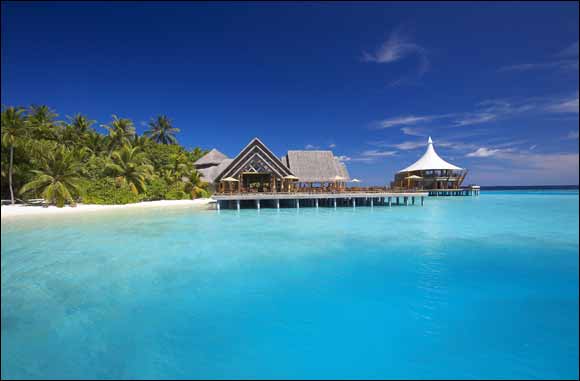 Experience Your Dream Vacation at Award Winning, 5 Star Luxury Resort Baros Maldives
Treat your loved one to the most romantic Valentine's of a lifetime by indulging your senses in an exceptional experience at idyllic Baros Maldives. Acclaimed as World's Most Romantic Resort at the World Travel Awards grand final in 2013, the five star resort offers GCC residents an exceptional experience on an island where guests can relax, explore and indulge themselves, all in one luxurious and award winning destination.
Only four hours away from the UAE by direct flight, and 20 minutes by speed boat from Male International Airport - guests are able to travel to this serene, private island resort with ease. Set in a translucent lagoon surrounded by a sun-drenched, white sand beach, ringed with a colourful coral reef, Baros Maldives is the ideal destination for a relaxing escape filled with diverse wonders that will delight every couple.
Guests can enjoy the exclusivity of private dining on a sandbank in the Indian Ocean or experience an exotic lagoon fantasy on the newest addition to the delights of Baros Maldives, The Piano Deck. The Piano is a small piano shaped platform in the middle of the lagoon, and is available for couples who want to be alone. The only sound is the natural music of splashing waves and the whisper of the caressing breeze.
The resort has a plethora of water activities for the more active ones. Guests can hone their dive skills and enjoy the mesmerising colourful marine life with a Scuba Diving Experience under the guidance of a Baros Dive Instructor. The Baros House Reef encircles the island and is one of the best house reefs in the Maldives, found just a few swimming strokes away from the Beach Villas. It can be explored at any time with a complimentary snorkel mask from Divers Baros, the first resort EcoDive Centre in the Maldives.
To begin 2014, let the award-winning Baros Maldives take you on a journey to discover the real spirit of the Maldives. Starting rates are from USD 605 per night ++ from 1 May to 24 July. Rates vary throughout the year. Further information on Baros Maldives, please visit www.baros.com.
-End-