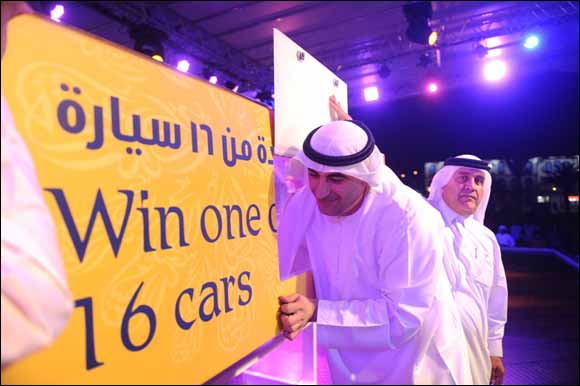 Visitors are winning big this season at Global Village and four people have already walked away with a brand new Audi A4, and with a chance to win every Thursday
Dubai, UAE, 1 November, 2013: Global Village, Dubai's leading family entertainment and cultural attraction, are giving visitors the chance to win big this season, with visitors to Global Village being able to enter a draw to win one of 16, brand new Audi A4, every week once they purchase their entrance ticket.
Reflecting the cultural diversity of a park that attracts people from various nationalities, the first four winners of Global Village weekly raffle draw came from Saudi Arabia; Canada, India and UAE.
Every Thursday, the winner is announced at the Cultural Stage for all the crowds of Global Village to celebrate the giving away of one of these luxury cars to a very lucky winner.
The pavilions taking part in this year's raffle draw include:   Afghanistan; Africa; Bahrain; China; Egypt; Germany/France/UK; India; Iran; Italy; Jordan; KSA; Kuwait; Lebanon; Morocco; Oman; Pakistan; Palestine; Philippines; Singapore and Malaysia; Syria; Thailand; Turkey UAE; Vietnam, and Yemen.
Delighted Audi A4 raffle winner from Canada said: "I have been going to Global Village since if used to be held near Garhoud Bridge and this was my first time to visit this year. It was great finding out that I had won the raffle. I have never won anything before, despite always trying out for raffles every chance I get. Global Village is obviously my good luck charm, and it is great to see the improvements they make every year to the event."
Another winner from India added: "It was great winning and we could not believe our luck. We have only been in Dubai for 6 months and have yet to even purchase a car. This was also our first time visiting Global Village so the experience was unbelievable. We really enjoyed the street magic and look forward to visiting events at Global Village over the next few months in our brand new car."
In cooperation with Dubai Shopping Festival, Global Village will be exclusively hosting the annual Dubai Shopping Festival raffle draw. The Global Village raffle draw will resume upon the completion of the Dubai Shopping Festival.
Global Village is one of Dubai's biggest brands and tourism destinations, with a team of over 10,000 people ensuring the delivery of a fantastic experience for visitors over its 5 month season. It welcomes nearly five million visitors a year and is regarded as one of the region's most popular homegrown tourism and cultural leisure brands.
Located on the Sheikh Mohammed bin Zayed highway for ease of access, the Global Village has parking space for 17,000 cars.