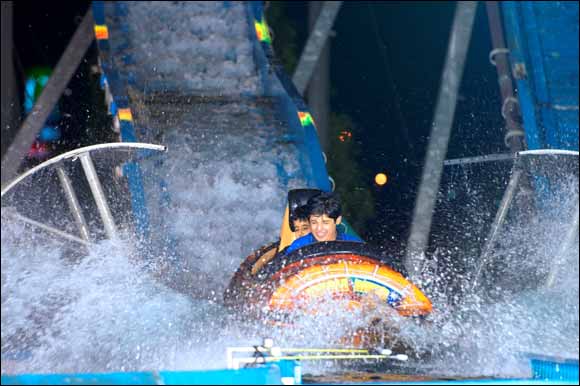 New Record Breaking Crowds Make Global Village The Place To Celebrate Eid In Dubai
Dubai, UAE, 20 October 2013: Global Village, Dubai's leading family entertainment and cultural attraction, enjoyed record breaking numbers of visitors during Dubai's Eid celebrations. The establishments 18th season has seen more visitors than previous years during Eid celebrations. The Eid holiday, from the 10th till the 19th of October, saw more than 500,000 people visit Dubai's signature annual tourism and cultural destination, especially  during the first three days of Eid  on the 15th,  16th and 17th of October. More are expected over the coming months as the leading seasonal entertainment haven and exclusive concert venue carries on delivering unique and interesting activities and entertainment for families.
The Fantasy Island Funfair is proving to be amongst the most popular attractions showcased this year. The purpose built Funfair area, designed and managed by UK founded and based Mellors Events Group, is enjoying unprecedented success and marks the entertainment company's first foray into the region.
With more than 50 rides and games designed for the entire family, no matter what the age, Fantasy Island is providing visiting families with hours of fun and enjoyment. Wooden decked floors adorn the funfair grounds, in a spectacular 'Coney Island'-esque style that is new to the region at Global Village.
"We were extremely pleased to see so many people, of all ages, enjoying the funfair to the extent that they did. We had been really looking forward to working with Mellors and seeing what they could provide the crowds in the Middle East, and they have more than exceed expectations." Said Ahmed Hussain bin Essa, Executive Director of Operations.
"With the huge amounts of people we had visiting the park, we were pleased to see the success of the newly launched Fantasy Island Fair, and the show of support the crowds gave to the fantastic performers we brought over to Dubai, some for the first time ever."
When not at the funfair, the crowds were being amazed and entertained by a plethora of Global Village's exclusive entertainers, brought specifically to the region for crowds to marvel at this year's Eid in Dubai.
From Australian daredevil cum comedian, Ernest the Magnifico; European magic marvels "Quick Change"; and circus performers were able to keep children entertained throughout Eid, with their highly visual and colourful acts. In addition to the dancing fountain and fireworks that added lots of Eid celebration spirit to the whole atmosphere.   .
With the amount of things to see and experience at Global Village this Eid Al Adha; crowds were ecstatic to find they had a wide choice of establishments to choose from when it came down to experience Global Village's diverse culinary offerings. Not only did they have a large assortment of restaurants and cuisines to choose from, but while visitors were taking part in the festivities, they had plenty of choice when it came to specialty kiosks that would serve up piping hot karak, assorted Thai fruits, or freshly baked potatoes with all the trimmings.
With the Thai food court being set up exclusively due to the popular demand for Thai food at Global Village, it proved to be a massive hit with the huge crowds that were showing up to be entertained at Global Village for Dubai's Eid celebrations. There was further enthusiasm for the changes they made to the restaurants this year, especially as Global Village opted for using 25 regionally known restaurants to provide eateries for the visitors.
Once again the crowds found a globally diverse retail experience within the 65+ countries represented under the 30 pavilions with their new artistic designs. This year has seen the return of crowd favourites such as Tunisia, Yemen, Egypt, and Thailand; as well as new attractions in the form of France, Germany, UK and Italy.
Global Village is one of Dubai's biggest brands and tourism destinations, with a team of over 10,000 people ensuring the delivery of a fantastic experience for visitors over its 5 month season. It welcomes nearly five million visitors a year and is regarded as one of the region's most popular tourism and cultural leisure brands.
Located on the Sheikh Mohammed bin Zayed highway for ease of access, the Global Village has parking space for 17,000 cars.