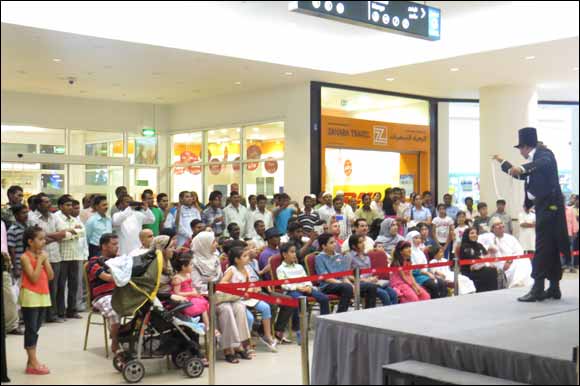 Muscat, Oman; 13 October 2013:  Compelling entertainment for the whole family is what City Centre malls will be offering this Eid.  From Monday, October 14th to Wednesday, October 16th, Muscat City Centre's Leisure Court and Qurum City Centre's Ground Floor will be filled with family entertainment and interactive activities for everyone.  Between 7:00pm and 10:00pm daily, kids can take part in singing and dancing, and then get to win exciting prizes from special games hosted by a live MC.  In addition, children can have their favourite characters painted on their faces for free!
During the three-day celebration, a jaw-dropping magic show will also be hosted at the malls that will surely leave the children amazed.  Throughout the festivities, there will also be roaming mascots to hand presents and sweet treats to the shoppers. 
Muscat City Centre and Qurum City Centre are open from 10am to midnight allowing shoppers to maximize quality time with their families, except on the first day of Eid when the mall opens at 4:00 pm.
Visit www.facebook.com/MuscatCityCentre and www.facebook.com/QurumCityCentre, and the mall's Instagram pages: http://instagram.com/muscatcitycentre and http://instagram.com/qurumcitycentre  for more details.