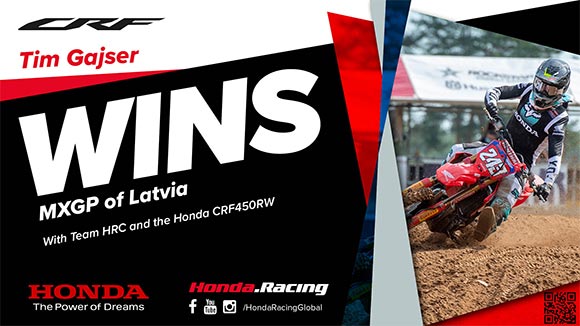 August 10, 2021: The Zelta Zirgs circuit in Kegums, Latvia hosted round seven of the FIM World Motocross Championship today.
Situated 48km south-east of Latvia's capital city of Riga this picturesque track as always provided some challenging conditions with its loose sandy surface, but harder base - making a demanding terrain for bikes and riders alike.
Coming into the weekend Team HRC's Tim Gajser lead the MXGP World Championship by five points and was hoping to retain the series leader's red plate today. Gajser took a good start in race one and quickly made passes to climb into second place setting some impressive laps times. A race one win was just out of the Slovenian's grasp, but his second place moto finish secured 22 more champions points.
Riding the CRF450R JM Honda Racing's Henry Jacobi had a good race one, battling hard from 13th place on lap one, then losing two positions to mount a fightback to finish the moto in a well-deserved 11th position.
As moto two began heavy rain started to fall, which made the already challenging track quite slippery and slowed the rider's speed by around five seconds per lap. In the first turn Gajser had to battle hard to secure a leading position and by lap one Tim had slotted his CRF450RW into fifth place and set to work picking off riders and climbing into third place by lap three. Although the Slovenian was often posting the fastest laps during the moto Tim wasn't making consistent progress to challenge for the lead. Then on the final lap a crash ahead of Gajser handed him second place and another 22 points giving him the overall GP win by one point, retaining the now customary red plate that adorns the Team HRC CRF450RW.
Henry Jacobi had another hard battle in moto two. Starting in 16th position in the early laps the talented German soon pushed hard into 14th place only to crash whilst making a pass, dropping him down to 19th. Jacobi began a hard charge to finish the race in 14th position and 11th overall.
Team Honda 114 Motorsport's Ruben Fernandez had a tough first moto today - hitting the start gate which put the Spaniard in mid-pack for the first lap. Ruben then had an awkward crash on lap two and had to make his way back up the landing slope of a tabletop jump to remount his CRF250R. Fernandez restarted in 21st place and eventually finished the moto in 17th.
A much better start in race two saw Fernandez in fifth place on lap one - a position he was clearly not planning on staying in. By lap two he'd pushed his Honda into fourth and started to challenge for third position, but some small mistakes and loss of rhythm eventually dropped the 22 year old back down the fifth position where he finished the race. Ruben ended the day in 11th overall and now sits firmly in fourth position in the championship.
7 - 8 August 2021
MXGP of Latvia
| | | | | | |
| --- | --- | --- | --- | --- | --- |
| Pos. | Rider | Num. | Team | Constr. | Time/Gap |
| 1 | Jorge PRADO | 61 | Red Bull KTM Factory Racing | KTM | 36:22.9 |
| 2 | Tim GAJSER | 243 | Team HRC | Honda | 00:07.1 |
| 3 | Romain FEBVRE | 3 | Monster Energy Kawasaki Racing Team | Kawasaki | 00:15.6 |
| 4 | Jeffrey HERLINGS | 84 | Red Bull KTM Factory Racing | KTM | 00:26.6 |
Tim Gajser 243
Team HRC
I'm super-happy with how this weekend has gone, winning the overall after two tough races.
I wanted to try and cut out the mistakes from the previous couple of rounds and I knew if I did that I would do well, so it was good to see that it paid off already.
Obviously winning is a massive boost before these three weekends off so I will enjoy this moment before getting back to work and preparing myself for the second half of the season.
A big thanks to everyone in Team HRC for all their work and I can't wait for Turkey, which is a track I really enjoy racing.
Henry Jacobi 29
JM Honda Racing
I struggled a little in Timed Qualification today. I should normally be able to qualify in around 10th position, but today I could only manage 18th which gave me a poor start-gate choice.
In race one though I delivered quite a solid performance and finished the race in 11th which was quite good.
In the second race I had a good start, but there was a bit of pile-up with the guys ahead of me and lost some positions. I was then in around 15th place and making some good passes. I was then passed and I immediately responded and tried a block-pass back but we unfortunately crashed. It was my fault, but an incident that can happen in racing and I have to try to defend my race position with every rider.
After the crash my handlebars were bent and the front brake was damaged but I felt good and worked hard to get some points from the race. I finished in 14th and that gave me 11th overall.
There is still room for improvement in my results and I'm going to continue to work hard for this with my team.
Ruben Fernandez 70
Honda 114 Motorsports
In Timed Qualification I was on a very good lap with green sectors on the timing screen, but I had a crash and bent the subframe on my bake. I then had to use the spare bike which is almost the same as my main bike, but the small differences meant that my best position was seventh.
In the first moto I hit the gate and had a really bad start. I was in 11th position on the first lap but then made a small mistake and lost some places. Then I had a bigger crash which meant that I could only manage 17th in race one.
In race two I had a much better start and made some passes in the first laps. I was in fourth place for a lot of the race but I started to lose my rhythm and dropped to fifth place by the finish. It wasn't such a bad race overall. I got 11th overall today but I know I can do better.


Gordon Crockard
Honda Motor Co. Ltd
Gajser wining the overall is my highlight from today. Great to see Tim defend and extend his championship lead in Latvia.
Fernandez had a disaster in race one when he hit the start-gate and crashed soon into the race. He did mange to salvage some points and it was good to see him persist in his quest.
The second race was much better for Ruben and he battled hard throughout the moto eventually finishing the race in fifth.
Henry Jacobi had a good result in race one but had a collision with another rider in race two and lost a lot of time. He remounted and managed to settle into a good pace and was rewarded with seven points and 11th overall.
We had very reduced numbers in the MX2 class today across the teams due to injury. So get well soon to all our rider who are working on their recovery.
Prior to Latvia we've had a very intense period of races. The series takes a three-week break now which I think is really welcomed by all. After the break we'll enter another phase of intense racing and we all look forward to returning strong to restart our World Championship campaign.