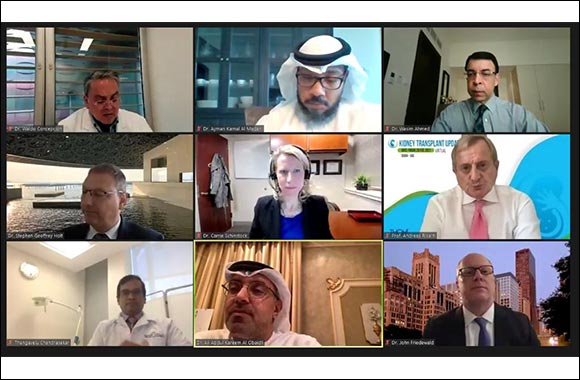 Virtual seminar gathered more than 1,800 industry experts to explore medical diagnostics and treatment methods for patients with chronic kidney disease
Abu Dhabi, 03 April 2021: SEHA Kidney Care (SKC), part of Abu Dhabi Health Services Company (SEHA), the largest healthcare network in the UAE, gathered more than 1,800 leading clinical, academic, research and healthcare executives, and industry experts to discuss various elements of kidney care, donation and transplantation.
The webinar, titled 'Paired Kidney Donation from Theory to Implementation: Local, Regional and International Perspectives' facilitated the exchange of knowledge, expertise, experiences, and best practices amongst attendees from over 32 countries, including the UAE, Saudi Arabia, Oman, USA, and India. A broad range of state-of-the-art lectures explored improving and implementing options for patients with chronic kidney disease, particularly kidney transplantation – both deceased and living donor/paired kidney exchange.
Dr. Stephen Holt, Professor Director and Chief Executive Officer, SKC, said: "Approximately 10% of people worldwide have chronic kidney disease, with 9 in 10 of those unaware of their condition. There is a dire need for us to ensure increased education and awareness around kidney conditions, their associated symptoms, treatment methods, and the importance of organ donation."
Dr. Ali Al Obaidli, Chief Medical Officer, SKC, said: "International collaboration and the continuous exchange of knowledge, best practice, and expertise are integral to the global success of kidney care and treatment methods. We are grateful for the opportunity to connect with our colleagues across borders to learn from one another and adopt crucial learnings with the overarching aim of elevating our provision of expert healthcare to those with chronic kidney disease."
During the first two sessions of the webinar, speakers and participants explored kidney disease in the GCC region, including organ failure, donation, renal registries, and transplantation; and kidney disease internationally including donor expansion methods and strategies, innovative approaches to expand the donor pool and improve patient outcomes, logistics of international kidney exchange, and case studies of paired kidney exchange from Saudi Arabia and India.
The third session was a panel discussion exploring integral factors to successful paired kidney donation and transplantation programs, such as collaboration, funding, awareness and educational campaigns for all audiences, efficient transportation of organs, and advancements in surgery like laparoscopic, robotic surgery, amongst others. Panelists included experts from the Ministry of Health & Prevention, Dubai Health Authority, Etihad Aviation Group, Al Jalila Children's Specialty Hospital, Union71 and Cleveland Clinic Abu Dhabi. To watch the recording of the webinar, click here.
In line with its commitment to continue advancing the community's awareness on kidney care, SKC recently partnered with Kidney Education Foundation to introduce an awareness booklet, titled 'Save Your Kidney' and available in 37 languages, with extensive information about kidneys and tips on how to take care of them. In addition, and with the aim of encouraging members of society to sign up as organ donors, SEHA and MAAN, the authority of social contribution, announced their mission to fund raise AED 5 million with the support of corporations and the public to support kidney disease and transplantation services.