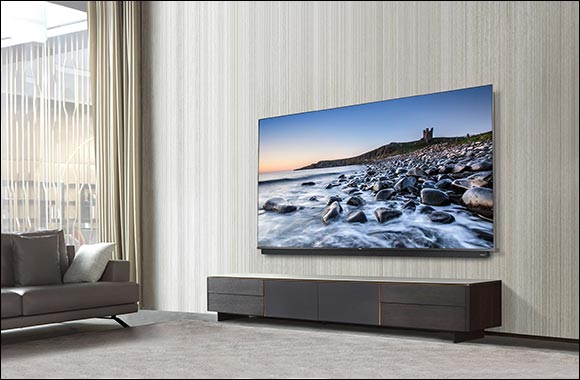 7 September 2020 - Dubai, United Arab Emirates: TCL, one of the leading players in the global TV industry and a leading consumer electronics company, today launched its new TCL QLED TV model, C815 to the United Arab Emirates customers. TCL's much-anticipated QLED TV portfolio themed, "Beyond Your Imagination", continues to raise the bar for imagery and audio-visual experience, delivering pure and rich colors with exceptional acoustic performance.

"With the help of deep supply chain vertical integration, TCL has been committed to Quantum Dot Display Technology since 2014. With the exciting momentum driven over the years, now it's the perfect time to introduce TCL QLED TVs to more consumers in different parts of the world. With exceptional color performance powered by Quantum Dot Display Technology, few TVs available can equalize its cinematic picture quality," said Kevin Wang, CEO of TCL Industries Holdings Co., Ltd. and TCL Electronics, "We are proud to say that these additions will reinforce TCL's leading position in global consumer electronics industry."

Commenting on the launch, Deepak Babani – Executive Vice Chairman, Eros group, 'We are optimistic that the new TCL QLED TV with its outstanding features, value for money and its latest technologic advances, will raise the bar for the TV segments in the region. The UAE is a dynamic market with high and competitive innovations in the TV category, and we are confident that this new range will attract interest from consumers."

C815 adopts Quantum Dot (QLED) Display Technology for a smoother natural color performance. With approximately 100% ultra-high color gamut (DCI-P3) over a billion colors, the Quantum Dot Display Technology in the C815 will deliver even more vibrant and diverse colors without the limitations of lower color volume or shorter lifespans found in other color technologies.

In addition to the above-mentioned exceptional picture quality, C815 comes equipped with Dolby Vision HDR imaging technology, HDR 10+ and MEMC (Motion Estimation / Motion Compensation). Adopted by major Hollywood studios and leading global streaming services, Dolby Vision transforms your TV experience with ultra-vivid picture quality — incredible brightness, contrast, color, and detail that bring entertainment to life before your eyes. The latest HDR 10+ technology makes TV's 4K UHD display even better through dynamic tone mapping to offer more brightness levels, color saturations and contrasts.

While picture quality is prominently propelling TV performance, audio quality draws the audience into stories and helps grow connection to what's on the screen. For TCL QLED TVs, Dolby Atmos® audio technology has revolutionized the listening experience for entertainment. Dolby Atmos puts you inside the action with bigger, more encompassing sound that fills your room and flows around you to immerse you in your entertainment.

Enriched by over 70 years of professional audio expertise, the Onkyo sound bar embedded in C815 delivers intelligent theater-level acoustic performance. Together with a subwoofer included separately, powerful deep bass and dynamic sound ensures theater quality in-home experiences.

Responding to demand for larger screens, TCL QLED TV C815 now comes with stunning "Full-Screen" design and extra stand option to make viewing more immersive.

TCL's all-in-one AI platform TCL AI-IN offers thousands of entertainment channels with access to movies, music and TV series. The C815 comes embedded with TCL Smart Home System's multilingual Hands-Free Voice Control, making it easier to launch streaming channels, search for entertainment, turning the TV on and off, switch inputs and more.
Paired with the world's most popular operating system pre-installed, Android TV, C815 unboxes unlimited customized recreation services and user-friendly smart functions.
TCL QLED TV is available in 55", 65", "75" screen sizes across all Eros Digital Home, Leading Electronic outlets, hypermarket Chains and online channels in the UAE.