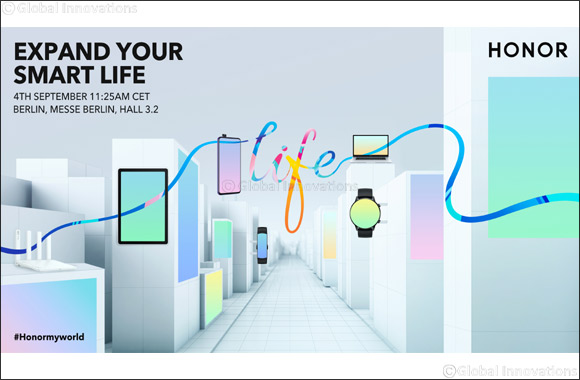 August 31, 2020: Global technology brand, HONOR, has announced it will be part of the IFA 2020 Special Edition in Berlin on September 4. Under the theme Expand Your Smart Life, HONOR will be launching a portfolio of products including smart wearables, personal computers, and tablets. The new lineup will feature the latest preeminent technology for today's digital consumer.

HONOR's 1+8+N IoT strategy, which refers to an ecosystem integration of one smartphone, eight categories of additional connected products and a wide offering of third-party linked devices that create an intelligent and fully immersed experience.

As a young and disruptive tech brand, HONOR pioneers the chic lifestyles of a tech-native generation who want to be themselves. With a purpose to provide an unforgettable experience in every scenario for HONOR users, the brand is obsessed with design and creativity. HONOR's presence at IFA 2020 promises to showcase the unique groundbreaking culture and digital lifestyle of the brand for a Gen Z audience that is connected, innovative and open minded.