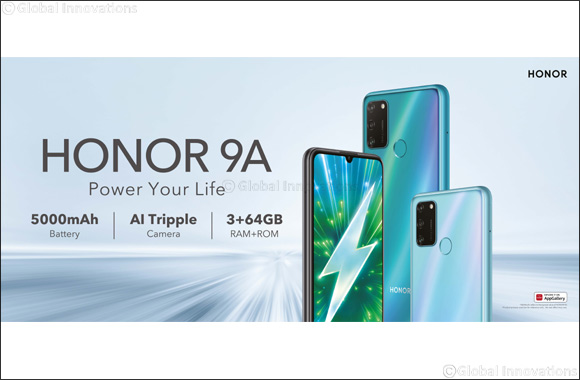 Dubai, United Arab Emirates, June 17, 2020: Global smartphone brand HONOR, today confirmed the upcoming launch of HONOR 9A in the UAE. The latest addition to the innovative HONOR series, HONOR 9A brings advanced technology, offering upgrades across the battery life, storage and photography. The new model provides an all-round functionality and convenience to everyday life enabling users to experience an unprecedently smooth and smart-life journey.
HONOR 9A aims to provide users an exceptionally long-lasting 5000mAh battery for a worry-free day outdoors without an external charger. The extensive battery life enables 33 hours of the 4G call, 35 hours of video playback, 37 hours of FM radio playback.

HONOR 9A will come with the Huawei App Gallery, one of the world's top three app stores. User will be able to explore and download useful and innovative apps developed by Huawei registered developers, enjoying a better digital life. Plus, HONOR 9A is pre-installed with essential and exclusive apps like Huawei Assistant, which acts as a personal assistant helping with global search, instant access to apps, browsing personalized news feed and SmartCare service.

The device includes helpful features like Phone Clone, where consumer can transfer data between mobile phones without the use of data cables. For example, users will be able to transfer contacts, messages, call logs, photos, audio files, videos, documents, and apps from any Android device to a HONOR device. In addition, you can download the App Finder in HUAWEI AppGallery, the App Finder categorizes apps by functions including social & communication, games, shopping, media & entertainment, where the users can easily find and get necessary apps.

"The new HONOR 9A continues to demonstrate HONOR's commitment to delivering unrivaled products with unbeatable value. We look forward to introducing this all-in-one intelligent smartphone to our customers and fans in the UAE and are confident that they will appreciate its exceptional design and performance," said Chris Sun Baigong, President of HONOR Middle East and Africa.

The HONOR 9A is slated to be introduced to UAE customers in June 2020. The HONOR 9A is an affordable device offering flagship features and performance in three striking colors - Midnight Black, Ice Green and Phantom Blue.