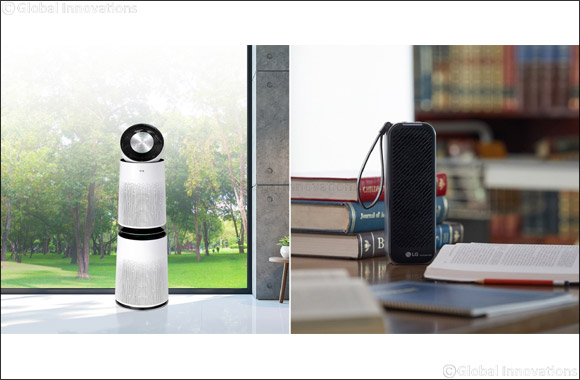 Dubai, United Arab Emirates, June 17, 2020: Maintaining a safe and clean home is never easy, but it can be especially difficult when the whole house is full all day, every day. This leaves parents taking on all respects of homemaker tasks. Balancing work commitments and the kids' educational needs, with keeping things clean, making meals and washing dishes has become the new normal in many households across the Gulf and around the world.
Reduce the stress and time taken up by household chores with intelligent assistance from LG Electronics (LG). A company that works hard to make life easier, LG offers a complete range of home appliances designed for busy people juggling homemaking, family and work commitments.
Figuring out what to eat, and then making it, is another source of stress in many households. To create a more enjoyable, less trying cooking experience, LG's smart microwave ovens boast seamless integration with smart cooking. The new generation of the NeoChef™ microwave ovens are more compact than their predecessors, but with much larger interior capacities.
The compact size of each NeoChef microwave means it can fit into even the smallest kitchens, while still providing enough room for tall or wide dishes. With just one appliance, home cooks can simply heat up their dishes, or even go as far as frying their favorite food. Simplify grilling by using the microwave to evenly sear and crisp food to grilled perfection without having to deal with a hot stove. The hardest part of the whole process might be settling on which delicious dish to make!
When it comes to washing up, families can keep the dishwashing gloves off and leave everything to the LG QuadWash™ Steam dishwasher. Combining the four multi-motion spray arms of QuadWash and the pure steam particles generated by TrueSteam™ technology, which eliminates 99.9 percent of bacteria1, including those linked to food poisoning, the dishwasher guarantees powerful cleaning with exceptionally gentle care. Sparkling and hygienically-clean dishware and utensils, without the need for scrubbing, rinsing and drying by hand, is something everyone in the family can get behind.
Fresh, healthy air in the home makes everyone feel better, but it is not something that can be achieved by vacuuming, dusting and opening the windows alone. To help everyone breathe easier, the LG PuriCare™ 360 Air Purifier, with its one-of-a-kind 360-degree design, delivers filtered air up to a distance of 7.5 meters to create a more comfortable indoor environment. The air purifier's Clean Booster feature rises up from the top of the appliance and rotates left and right to quickly refresh the air in every corner of the room.
For a more portable option that can be easily picked up and carried from kitchen to bedroom, or garage to garden, there is also the LG PuriCare Mini Air Purifier. The compact, wireless portable air purifier employs LG's 4-Step Filtration System to cleanse the air of fine dust particles.2
When the home is clean and all the chores are complete, homeowners can relax in a healthier environment. Not only do LG's appliances help people to enjoy the benefits of a cleaner and safer living environment, they also contribute towards creating more time for families to spend with each other.