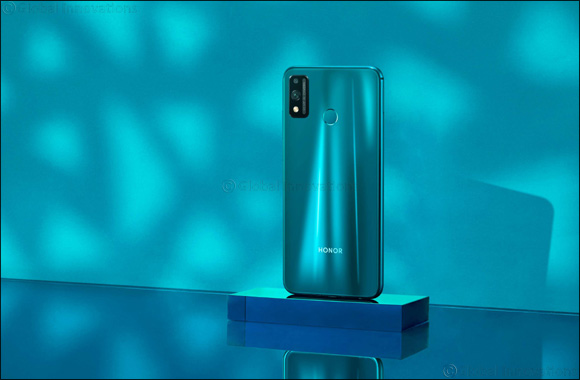 Savor every look with the HONOR 9X PRO and 9X Lite

Dubai, United Arab Emirates, June 03, 2020: Smartphones are easily the best way to capture an outfit of the day, but not all phone cameras are created equal. Effective lighting, stabilization, and resolution can all have an impact on how the final look ends up on your social feed. Capture the perfect look with ease thanks to intelligent photography features from the new HONOR 9X series.
Embracing evolution in the smartphone industry and transformation in user preferences, HONOR ups the ante with the HONOR 9X PRO and Honor 9X Lite, bringing next-generation technology to young consumers across the Middle East. The latest additions to the immensely popular X series, the HONOR 9X PRO and 9X Lite offers next-level user experience with upgrades across photography, design and performance. The stylish and affordable smartphones promise to deliver intelligent experiences for fashion forward users.
With photography at the forefront of smartphone usage, having the features that elevate capturable moments, especially for fashionistas, is of the utmost important. The X series has a number of intelligent upgrades that provide next level photography to enhance every unique shooting scenario.

Exceptional Photography: 48MP for Every Occasion

Knowing HONOR users' passion for photography, the HONOR 9X PRO and 9X Lite sports an exceptional 48MP primary sensor only found in flagship smartphones. The 9X series houses only the most integral lenses to capture precious moments regardless of the environment. The main sensor delivers a remarkable 48 million effective pixel count, promising striking details in complex images. Featuring an f/1.8 aperture and ½-inch sensor to boost image resolution and quality, the HONOR 9X PRO and 9X Lite captures ultimate light and details to produce true-to-life images. Meaning photos will look as sharp and clear as ever even when zoomed in.

Crystal-Clear Photography at Night with AIS Super Night Mode

Do not let evening looks go to waste. The game changing AIS Super Night Mode 2.0 intelligently integrates different images to produce clear and realistic images in dimly lit environments. Unlike the traditional method of extending the exposure period, the long shooting process is broken into shortened exposures. The AI-powered feature helps produce optimal images regardless of the dim environment. Discrepancies are automatically detected and corrected, making sure your images are picture-perfect with the right lighting balance.
Multi-Dimensional Photographs with 2MP Depth Lens

Feel like you have your own studio in the palm of your hands. By enabling depth of field recognition technology, the 2MP depth-assist lens at f/2.4 helps create multi-dimensional photos effortlessly, delivering studio-like close-ups and portraits during spontaneous shoots.
Minimalist Design for your Every-Day Look

Featuring a reflective Dynamic X design on the Dual 3D Glass Curved Back, the HONOR 9X PRO's minimalist finish complements any look. Available in two colours, the Midnight Black is best suited for those who prefer a classic look while the Phantom Purple variant adds a little spark to an every-day outfit
The HONOR 9X Lite adopts a 2.5D glass body with a grating effect and comes in two colour choices: Midnight Black and Emerald Green. Its glass back has a parallel gradient design and is made up of 15 different layers that causes the effect.