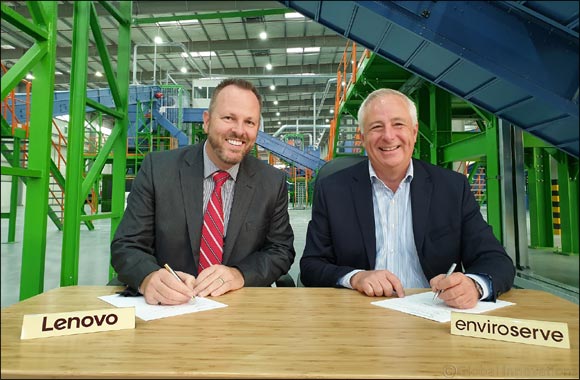 Dubai, United Arab Emirates – 12 November 2019: Lenovo, a technology leader in Intelligent Transformation, has partnered with Enviroserve, who have recently launched the world's largest integrated processing facility for electrical and electronic equipment waste (WEEE) in Dubai Industrial Park. The partnership with Enviroserve and Wisetek forms part of Lenovo's wider approach to e-waste management through its Lenovo Remove-IT Program.
The Recycling Hub by Enviroserve is a state-of-the-art facility that is spread across 280,000 square feet and offers the annual capacity to recycle 39,000 tonnes of electrical and electronic waste. Powered by solar energy and producing no air or liquid emissions, the facility contributes to international e-waste recycling efforts and serves as a role model in the Middle East and Africa. It also features an IT Asset Disposition centre.
"When we think about waste management and recycling, a data centre is not the first thing that springs to mind. Neither do we think about what happens to the smartphone in the palm of our hands once it retires. However, the electronic materials we deal with every day, in both daily life and at the backend across data centers, consist of components that are potentially harmful to our environment and we must find pioneering ways to manage them effectively," said Dr. Chris Cooper, General Manager of Lenovo DCG.
"This is something we are tackling with the partnership and through our Lenovo Remove-IT Program in general. As we work towards empowering the workforce in an age of intelligent transformation, will be working closely with clients and partners to optimize the lifecycle of their enterprise IT equipment, as well as maximize their products value. We strongly believe that taking a circular economy approach will contribute to the sustainability agenda of the UAE and region beyond," he continued.
Commenting on the partnership Stuart Fleming, Group CEO, Enviroserve said: "Lenovo has shown great leadership and innovation in the sustainability space by offering three programs that address key challenges in recycling electronic waste. We are proud to be their partner in this initiative and are ready to support their sustainability goals across the Middle East, Turkey, and Africa."
"Reuse is the highest form of sustainability and environmental best practice. Wisetek is excited to join hands with Lenovo and Enviroserve to bring our global network of testing, data deletion, repair and sales expertise of used ICT equipment to the region." Jim Sheehan, Executive Director, Wisetek META added.
As part of the Lenovo Remove-IT Program, Lenovo is focused on three key areas. The Lenovo Health Check (LHC), the Total Returns Management Authorisation (TRMA) and the Lenovo Residual Value Guarantees (LRVG) are the Lenovo's three sub-programs that enable a circular approach to environmental waste management in which companies replace the end-of-life concept of equipment with restoration and reuse. This approach is in line with the UAE's Vision 2021, for creating and maintaining a sustainable environment.
The LHC will provide clients with a physical audit of IT equipment for the purpose of supporting the equipment lifecycle. Through Lenovo's partner network, it can perform a complete physical inventory of every site and prepare detailed reports.
The TRMA is a sustainable and scalable trade-in program. It will provide a service model that ensures all returning materials are analysed, valued, collected, reconciled and processed efficiently at an optimal cost. Both these initiatives will support clients with managing the life cycle of their e-waste and preserve their products for longer, at a higher value.
Finally, the LRVG program enables the procurement of new Lenovo Data Centre Equipment (Compute, Storage and Network) with a binding residual value.