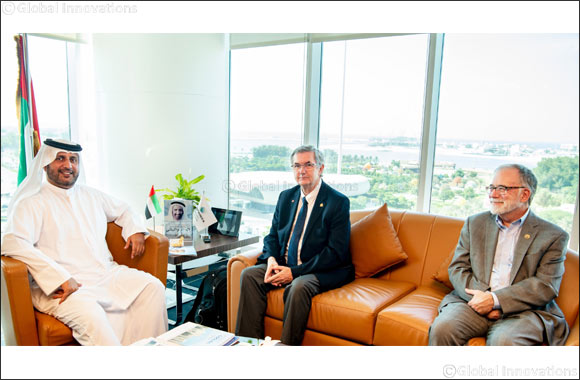 Dubai, UAE, 11 November 2019: Ahmad Bin Shafar, CEO of Emirates Central Cooling Systems Corporation (Empower), the world's largest district cooling services provider, met with a delegation from The American Society of Heating, Refrigerating and Air-Conditioning Engineers (ASHRAE), and discussed the latest developments in the district cooling sector, and ways to strengthen the mutual cooperation.

The delegation was led by Daryl K. Boyce, President of ASHRAE Society and included Tim Wentz, Presidential Member and Former President of ASHRAE Society, Farooq Mahboob, Vice President of ASHRAE, Dr. Ahmed Alaa, RAL Director & Regional Chair of ASHRAE, and Hassan Younes, member of ASHRAE and President of Falcon Chapter.

Boyce thanked Bin Shafar for his remarkable efforts in the field of district cooling, regionally and globally.
"We are happy to meet and partner with Empower. This partnership reflects our commitment to contribute to developing innovative solutions to achieve sustainability through district cooling services," added Boyce.

Bin Shafar commended the strong relations between Empower and ASHRAE.

"It is pleasure to host the members of the Society. The meeting was a great opportunity to discuss the latest developments in the district cooling sector, exchanging of experiences and around the challenges facing in the industry. We also had discussions on finding innovative solutions to promote energy efficiency," said Bin Shafar.

"The meeting shed light on the success of the 'Owner's Guide for buildings served by District Cooling' and the updated edition of the 'District Cooling Guide' for designers and building owners around the world, which were widely celebrated by experts, specialists, and real estate developers in the district cooling sector. These guidelines enriched the culture of district cooling locally," added Bin Shafar.

Bin Shafar stressed that Empower is always keen on raising awareness about the importance of district cooling systems, and their role in urban development, by hosting delegations from local and international organisations, to review the latest developments in this sector.

Empower provides district cooling services to more than 1,090 buildings, catering to more than 100,000 customers. The company operates more than 1.43 Million Refrigeration Tons (RT), providing environmentally friendly district cooling services to large-scale real estate developments, such as Bluewaters, Jumeirah Group, Business Bay, Jumeirah Beach Residence, Dubai International Financial Centre, Palm Jumeirah, Jumeirah Lake Towers, Ibn Battuta Mall, Discovery Gardens, Dubai Healthcare City, Dubai World Trade Centre Residences and Dubai Design District, International Media Production Zone and others.