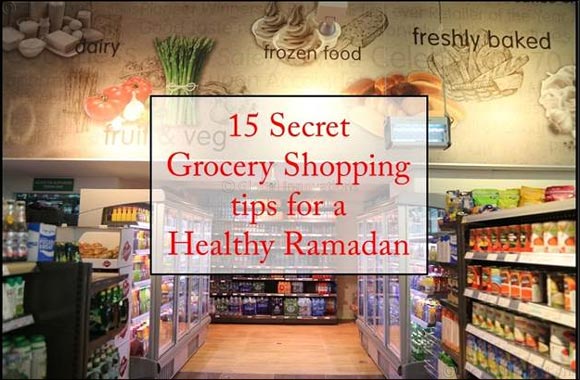 By Dana Hamwi – Expert Nutritionist for Choithrams Ramadan Campaign
Dubai, United Arab Emirates - May 26, 2019: Healthy eating starts with choosing the right ingredients. It is easier to make a nutritious meal if your kitchen is already stocked with amazing seasonal produce, affordable proteins, and healthy whole grains.
Be careful when you're grocery shopping, as it is pretty easy to get carried away by convenient frozen meals and delicious looking pre-packaged sweets. This commonly happens when a variety of chocolate bars and candies are waiting for you at the checkout line; these can be very tempting especially when you are hungry or fasting.
Healthy shopping is easier if you plan what you buy. Select nutritious foods and beware of packaging flaws or food that is not stored safely. The process of a successful healthy food shopping starts even before you head to the grocery store.
It's easier to plan balanced meals for your family when you start with a shopping list that includes healthy products. Ensure that you include food variety from different categories to be served for meals during the week.
Below mentioned are a few tips that you can consider before your trip to the grocery store -
1. Avoid shopping when you're hungry as hunger generally entices you to buy junk and other unnecessary food.

2. Plan your meals a week ahead and make a list, before you go shopping.
Try and divide your list into sections based on the different food categories. This may take a few minutes, but saves you time in running back and forth to different aisles within the store.

3. Opt for low-fat options. For example, select low-fat milk, cheese, yoghurt, salad dressings and sauces.
4. Your grocery shopping should generally start with picking non-food items first, then canned food, as it does not require refrigeration, moving on to fruits and veggies and lastly your frozen food as they require temperature control.

5. Opt for fresh or frozen vegetables over canned or pickled vegetables which are high in salt content.
6. Pick dairy products, meat and frozen food at the end as they should not be kept out of the refrigerator for more than half an hour.
7. While picking frozen food, always check the packaging to ensure there are no holes or leaking areas. Same applies for canned food also.
8. Check the manufacturing and expiry date of all the products that you pick.

9. Segregate hot foods and cold foods in different bags. While you carry food from the supermarket to your home, make sure high-risk foods (such as meats, dairy products and seafood) are kept out of the 'temperature danger zone'. Store them below 5 °C or above 60 °C.
10. Chicken skin contains loads of calories and saturated fat, so skinless chicken breasts are a healthier choices
Avoid buying apples that are covered with the wax layer .11
12. Be a smart shopper. Pick products that are placed in the second or inner row of the stand as the first row generally stocks products that are older.
13. Buy fruits and vegetables in quantities that are enough for three days and opt for seasonal options as they healthier and also more reasonable.
14. Beware of the salt hidden in processed meats. Limit your consumption of salami, ham, corned beef, bacon, smoked salmon, and pickles.
15. Limit takeaway and convenience foods. They are expensive, high in fat, high in salt and low in nutrition, and leave you feeling hungry again in a few hours.