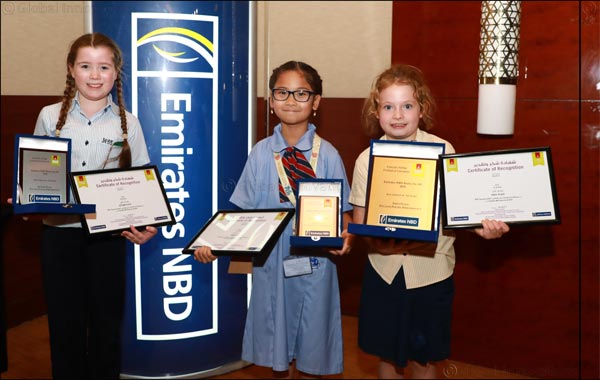 Dubai, 8 March 2018: The annual Emirates Airline Festival of Literature poetry performance competition concluded today following an intense final round of the Emirates NBD Poetry for All competition. Winners were crowned by Festival 2018 poets Khalid AlBudoor, Nujoom Nasser Alghanem, Afra Atiq and Harry Baker.
An unprecedented number of performers entered the competition this year, with 700 students competing in the semi-finals before the top performers in each age group progressed to the finals at the Festival. Participants were evaluated on their interpretation of selected poems as well as their performances.
In keeping with the rich Emirati tradition of poetry recital, the Poetry for All competition provides students the chance to exhibit their oratory skills. The competition, held in Arabic and English, is divided into two age categories of 8-13 and 14-18 age groups, with the participants performing their own choice of poems. This year, in collaboration with the competition's title sponsor Emirates NBD, a new non-competitive performance category for people with disabilities (people of determination) was added to the finals.
"The work of the Emirates Airline Festival of Literature has been incredibly impactful," said Suvo Sarkar, Senior Executive Vice President & Group Head - Retail Banking & Wealth Management at Emirates NBD. "We have enjoyed partnering with them to develop an appreciation for the literary arts among young people in the region. Supporting the Emirates NBD Poetry for All competition is our way of giving back to the community, and contributing to the preservation of its rich cultural heritage. We are particularly delighted to watch the recitations of performers of all abilities - the winners and participants alike captured the essence of the poems through their performances. This has been a wonderful experience for the team and an apt representation of the spirit of inclusivity in the UAE, which we are looking forward to building on, in next year's competition."
Best Arabic Poetry Performance:
8-13 Age Group
1. Alia Al Alawi – Deira International Private School
2. Al Harith Moaweiya - Charity School
3. Rawdha Khalid Al Rahbi – Etihad Private School – Al Mamzar
14-18 Age Group
Best English Poetry Performance
1. Hind Mohammad Al Shamari – Al Resalah International School of Science
2. Mohammad Abu Khousa –Al Mawakeb School Al Garhoud
3. Touqa Mohammad Khamis Rashed – Lubaba Bint Al Harith School
Best English Poetry Performance:
8-13 Age Group
1. Caoimhe Walsh – Horizon English School
2. Holly O'Shea – Jumeirah English Speaking School
3. Angelique Gayle Santiago – Pristine Private School
14-18 Age Group
1. Mustafa Khan – Greenfield Community School
2. Osama Shabaan – Greenfield Community School
3. Majed Albanna – Universal American School
The 10th Emirates Airline Festival of Literature continues till 10 March with more sessions, panels and workshops for all age groups. Tickets can be purchased at the Festival website (tickets.emirateslitfest.com) or via the ELF Dubai app, available on the iOS and Google Play app stores and at Magrudy's outlets around the UAE. Become a Foundation Friend loyalty member and enjoy benefits throughout the year, including priority booking and discounts on select Festival tickets, as well as exclusive discounts at several retail outlets in the UAE.