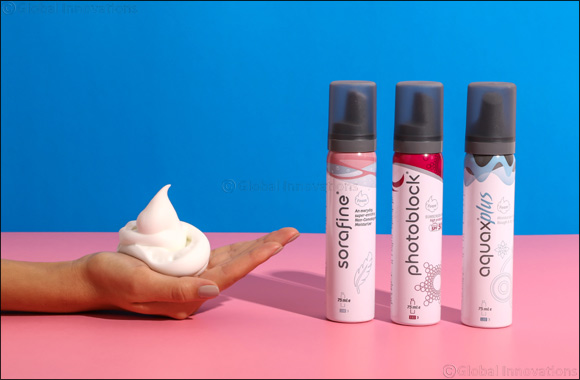 Introducing derma - the world's first foam technology skincare for quick absorption and feather like feel #foamit
Dubai, UAE, March 04, 2018: Put your cream to the back of the bathroom cupboard, there's a new sassy skincare product on the shelf - FOAM. And no, it's not the shaving kind!
Produced in Sweden Derma skincare, have combined science in both form and function with their revolutionary Foam range. A non-greasy formula with easy application and rapid absorption, meaning you can save on time and product wastage. Yes, your foam goes a lot further than your cream! Plus, it's water based formula is hypoallergenic and stored within a pressurised container which means less irritability and no contamination with microbes, so your skin is always protected!
The FOAM TECHNOLOGY range by Derma includes three hero products and is fast becoming a favoured choice over traditional creams for combatting dry hard skin, effective daily moisturising and sun protection.
PHOTOBLOCK FOAM, is a high protection SPF 50 sunscreen foam that let's you skin breathe! Fed up of thick, heavy sunscreens? Photoblock's four active ingredients provide high protection from UVA and UVB rays and the foam technology means it's rapidly absorbed into the epidermis of the skin. Avoid tireless rubbing-in and being left looking ghostly by thick high factor suncreams! The non-greasy formula also doesn't block pores meaning it's great for those pool days at the beach club or wearing under make-up, leaving skin smooth with no stick feeling - and better still it's water resistant! You'll also many more uses out of your foam, than regular creams as all you need is a tiny amount!
SORAFINE FOAM, will give you intense feather light moisturisation in seconds! Free from artificial colour, parabens, fragrance and preservatives the 3% urea, aloe vera and chamolmile formula intensely hydrates and prevents skin irritation. Sorafine is especially good for those exposed to water and humid conditions, perfect for the Middle Eastern climate and lifestyle due to its fast absorption. It's a hit under make-up due to its quick absorption and non-greasy feel leaving behind no oily residue that will cause make up slip away throughout the day or clog pores, meaning you don't have to worry about your skincare giving you breakouts!
AQUAXPLUS FOAM, will treat the toughest of dry patches and lock in moisture with it's 10% urea formula! Say goodbye to all those creams and treatments that claim to fix cracked heels, rough elbows and other problem areas for hardened skin! Release the foam, and keep the moisture in with Aquaxplus.
Derma FOAM TECHNOLOGY is designed to compliment all other products in the Derma range which include their daily essentials, anti-ageing, whitening and hair restoration products.