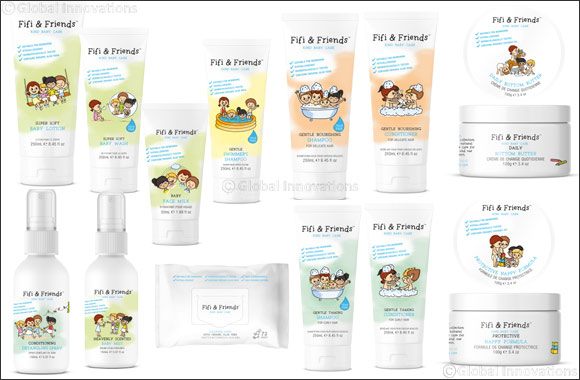 A collection of kind baby care
Dubai, UAE, February 28, 2018: Businesswoman and devoted mother, Tamara Ecclestone, has revealed her new business venture Fifi & Friends; a collection of kind baby products that marks her foray into the parenting lifestyle world.
Inspired by her daughter, Sophia (Fifi), the collection of natural and effective bath & body products is hypoallergenic, vegetarian (most products are also vegan) and wheat-free, as well as free from nasties such as parabens, sulphates, and silicones.
Dynamic and dedicated, Tamara Ecclestone possesses a determination and entrepreneurial spirit, that teamed up with her primary role as a mother is captured in her new and exciting business venture.
"I'm so excited to have Fifi & Friends come to life. I have wanted to do something that involved Fifi to do with parents, children and babies for a really long time. My world revolves around her, so it was a natural thing to do." - Tamara Ecclestone, commenting on the launch.
The Collection
Gentle Nourishing Shampoo (AED 60)
- Delicate Hair
This gentle baby shampoo infused with organic Aloe Vera cleanses and nourishes, for healthy and shiny hair, ensuring happy eyes with a tear-free formula.
Gentle Nourishing Conditioner (AED 60)
-Delicate Hair
This gentle conditioner infused with organic Aloe Vera and Avocado Oil conditions and detangles for a healthy and fresh finish.
Gentle Taming Shampoo (AED 60)
-Curly Hair
A softening baby shampoo that cleanses and hydrates frizz and knot-prone hair, taming even the wildest tresses, ensuring happy eyes thanks to its tear-free formula.
Gentle Taming Conditioner (AED 60)
-Curly Hair
This nourishing creamy conditioner made with organic Aloe Vera fights the frizz and is tough on tangles, for healthy bouncy locks.
Gentle Swimmer's Shampoo (AED 69)
This gentle swimmer's shampoo cleanses and conditions dry hair post-chlorine exposure, leaving locks soft, healthy and refreshed.
Super Soft Baby Wash (AED 53)
This soft and mild body wash delicately cleanses even the most sensitive skin, ensuring soft and happy skin.
Super Soft Baby Lotion (AED 60)
This creamy baby lotion with softening organic Aloe Vera hydrates and helps to protect, leaving skin nourished and amazingly supple.
Conditioning Detangling Spray (AED 52)
This light detangling spray with organic Aloe Vera, known for its conditioning and soothing properties, helps for easy combing and flowing locks. Brushing out your little one's knots has never been kinder.
Daily Bottom Butter (AED 53)
This highly protective bottom butter is ideal for daily use, formulated for baby's delicate skin. Helps protect skin from diaper rash.
Cleansing Wipes with Organic Aloe Vera (AED 30-72pk, AED 19-32pk)
These moisturising baby wipes freshen baby's skin at home and on-the-go. Made with 100% biodegradable organic cotton, they gently cleanse and refresh and are suitable even for sensitive skin. It is available in 72 wipes and 32 wipes – a handy travel size for when you're on-the-go!
Baby Face Milk (AED 52)
This Sweet Almond Oil infused moisturiser gently hydrates even the most sensitive of skins. Clinically proved to be safe for baby, it contains organic Aloe Vera which soothes and helps to protect.
Rescue Cream (AED 45)
This intensive, multi-use, nourishing barrier cream provides a protective layer to help restore skin back to its soft and supple condition after any rashes or irritation. The formula contains moisturising Shea Butter and Olive Oil and works wonders on cheeks irritated by teething.
Protective Nappy Formula (AED 75)
This kind, yet effective nappy formula protects your baby's bottom by creating a durable barrier. It contains Zinc Oxide, an astringent which reduces the loss of tissue fluid.
Heavenly Scented Baby Mist (AED 80)
This naturally fragrance baby water refreshes your baby's skin, whilst organic Aloe Vera soothes. Ideal to also spray on linen and their toys for a comforting, soothing scent. Formulated without alcohol.
Fifi & Friends products are now exclusively available online and soon in Babyshop, Spinneys and Waitrose stores in the UAE.
In the UK, the collection is available in Harrods, Harvey Nichols and on FifiandFriends.co.uk, the parenting content site created by Tamara Ecclestone. The site advises and supports parents through all stages of parenthood via its editorial compiled by a team of writers and contributors, who are all experts in their respective health, parenting and lifestyle fields.