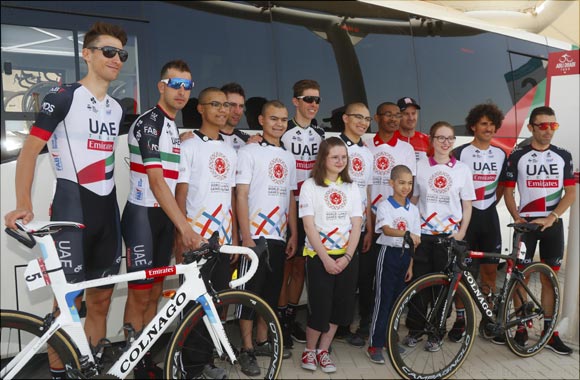 Dubai, UAE, February 24, 2018: UAE Team Emirates' Alexander Kristoff followed up his stage one victory with another top 10 finish, as the Norwegian battled hard in the bunched sprint to take a respectable seventh place and stay in contention for the General Classification (GC).
Commenting on today's race, the European Champion said; "Today I didn't have the same power as I had yesterday. There were other guys passing me and Viviani was very fast, but I was happy to fight for a good position today. The team put me in a positive position and I was in the mix with the other riders. We have another race tomorrow to try and grab a win in what should be a good day for the sprinters."
Earlier today, Kristoff and his team-mates met new fans ahead of the second stage of the Abu Dhabi Tour. The newly converted fans – Joel, Eliana, Issac, Jonah, Micah, Heidi and Josiah – are all part of the Goals UAE programme, a community based, volunteer initiative which is enhancing the connection between children with autism and the greater community of Abu Dhabi. The initiative is working closely with organisers of the upcoming Special Olympics World Games Abu Dhabi 2019 who are committed to bringing together people of all backgrounds and nations in a celebration of sport and humanity, with a clear and unambiguous goal of affecting long-term behavioural change and shifting attitudes about people with ID in the UAE.
Riders will now gear up for stage three of the Abu Dhabi Tour, setting off from Nation Towers and taking in the entire island of Abu Dhabi, before returning for what should be another thrilling bunched sprint finish at the Big Flag. On the route, riders will take in some of the emirates most eye-catching sites including; the Louvre, Emirates Palace, Abu Dhabi Corniche and the world-famous Abu Dhabi Grand Mosque.
UAE Team Emirates' participation at the Abu Dhabi Tour gives the region's community the opportunity to come together and support world-class athletes as they aim to become one of the top cycling teams on the tour.