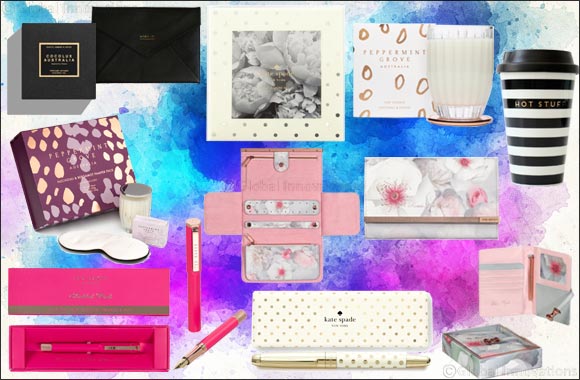 Dubai, UAE, February 12, 2018: Mother's day is that special time of the year when you get to celebrate and show your love for all the wonderful mums in your life – as they say 'No language can express the power and beauty and heroism of a mother's love'. So, if you're looking for a way to show how special you think they are, these aspirational gifts are just what you need.
Cocolux Candle 350g Exotic Amber & Spice – 350 AED
This powerful unisex fragrance infuses dark amber, cardamom and frankincense with Persian spices to create an atmosphere of intrigue and excitement.
Peppermint Grove Candle 350g - Coconut & Lychee – 200 AED
This effervescent and fruity fragrance is reminiscent of bright lights, starry nights, sweet treats and tasty feasts! It combines notes of coconut, passionfruit & lime to produce a fragrance that is deliciously sweet and incredibly zesty - the ultimate summer escape.
Peppermint Grove Gift Set - Patchouli & Bergamot Pamper Pack – 250 AED
A beautifully intoxicating fragrance with top notes of bergamot and mandarin orange, middle notes of gardenia, jasmine and vetiver with a base note of patchouli, the Patchouli & Bergamot Pamper Pack will sweep you up with its lustful elegance.
Alice Scott Luxury A4 Document Wallet – 150 AED
The perfect document wallet for any Girl Boss (or Boy!), complete with fabulous gold lining!
Alice Scott Travel Mug– 70 AED
Constructed from insulated acrylic and boasting a scew-on cap, this delightful 'Hot Stuff' travel mug from Alice Scott is sure to keep your coffee warm in style!
Ted Baker Travel Document Holder Chelsea Border – 250 AED
Keep all your travel essentials in one place with this stylish Travel Document Holder from Ted Baker. The statement Chelsea Border patterned cover features the words 'Fly Me To The Moon' in rose gold lettering, and the pink, faux-leather interior includes space for your passport, documents, travel tickets and a plastic ID window to fill with contact information.
Ted Baker Jewellery Roll Chelsea Border – 250 AED
Keep your accessories under wraps with this stylish Jewellery Roll featuring Ted's signature Chelsea Border design and the words 'Roses Are Red', this elegant jewellery accessory includes space for earrings and rings, plus two additional zipped compartments for keeping loose accessories secure, one of which can be removed.
Ted Baker Premium Fountain Pen Electric Pink Sapphire – 320 AED
This pen offers high class with a touch of designer magic. It has a sleek design with a cylindrical bottom leading smoothly into a hexagonal shaped pen lid, topped with the signature Ted Baker
Kate Spade Ballpoint Pen, She Wrote Her Own Happily Ever After – 180 AED
Perfect for hand writing cards (and to-do lists and love notes), this elegant pen from kate spade new york® adds a sleek touch to everyday life. Subtly shimmery and topped with one of their signature bon mots, this accessory adds personality to any pencil cup.
Acrylic Picture Frame, Cream & Black Dots – 180 AED
Refresh your desk or bedside table with a few of these subtly shimmering frames, which also make a no-fail gift for your next fête.
All the Little Birdy Group Merchandise is available for purchase from Virgin Megastore or online.