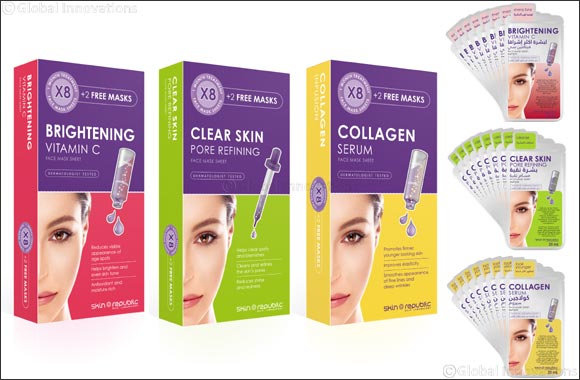 Dubai, UAE, February 08, 2018: Face masks are the perfect skincare treatment to help with most skincare concerns. Using a face mask is one of the easiest ways to get healthy and supple skin in just a few minutes. However, while instant results are visible after a single use, the skin has a four-week regeneration period, therefore a face mask is most effective when used twice a week for a period of one month.
Bedrock Prestige Distributors is happy to announce the launch of Skin Republic's most popular treatments in new monthly treatment packs that include a value deal of 10 masks in each box for the price of 8!
The following treatment packs are now available:
Clear Skin Pore Refining (x10) (AED 185)
Helps clear spots and blemishes
Cleans and refines the skin's pores
Controls shine and reduces redness
This spots + blemish face mask helps cleans the skin's pores, clear spots and aids in preventing future breakouts with Tea Tree and Salicylic Acid. Witch Hazel helps tighten pores and stabilises the barrier function of the skin. These ingredients remove pore-clogging oil, control shine and reduce redness without over drying, helping to maintain a healthy and clear complexion.
Brightening Vitamin C (x10) (AED 185)
Reduces the visible appearance of freckles, age spots and imperfections
Brightens and evens skin tone
Antioxidant and moisture rich
Infused with brightening and radiance enhancing ingredients Vitamin C, E and 7 Plant Extracts which gently reduce the visible appearance of freckles, age spots and imperfections for an even skin tone. Revitalises and brightens the skin whilst supplying hydrating nutrients to reveal a radiant, bright and luminous complexion.
Platinum Lift (x10) (AED 185)
Reduces the signs of ageing
Antioxidant rich
Firms, tones and lifts
This mask stimulates the skin with antioxidants that aid in the fight against environmental damage. Nano-Platinum, Trehalose and Pomegranate are antioxidants that assist in lifting and firming the skin. Enhancing elasticity and texture for visibly firmer, lifted younger looking skin.
Collagen Infusion (x10) (AED 185)
Improves elasticity
Promotes firmer, younger looking skin
Smoothes fine lines and wrinkles
This anti-ageing face mask features moisture boosting Collagen, Elastin and Vitamin E that help rejuvenate and revitalise the skin's elasticity, tone and firmness. Lost volume is restored, minimising the appearance of fine lines and deep wrinkles. Skin appears smooth, firm and more youthful.
All Skin Republic Masks are dermatologist tested and are not tested on animals. Skin Republic Masks have a three-year shelf life and are available from:
Department stores: Harvey Nichols, Bloomingdales, Areej, Lifestyle, Karji
Pharmacies: BinSina, Boots, Manara, Docib, Medicine Shoppe, United Pharmacy.
Supermarkets: Spinney's, Waitrose, Al Maya and Blush