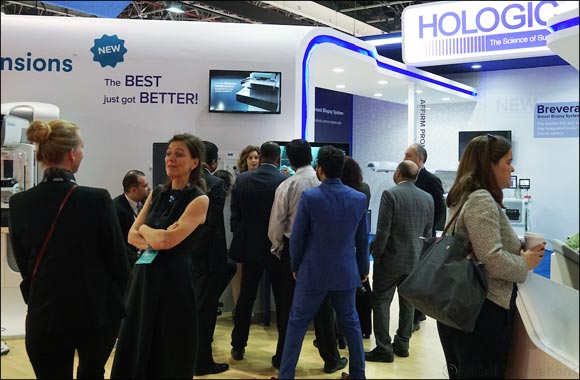 Dubai, United Arab Emirates, February 07, 2018: Hologic Inc., world leaders in innovative medical technology, introduced eight new innovations at Arab Health 2018 with a view to strengthen their commitment to deliver life-changing and life-saving diagnostic, detection, surgical and medical aesthetic products.
Hologic's innovations are inspired by their desire to empower women and help healthcare professionals diagnose and treat their patients with growing capacity, precision and peace of mind.
Hologic's breast cancer screening and interventional products are at the forefront of advancing breast health to detect more cancers earlier.
At Arab Health 2018, Hologic presented the following 8 innovations:
The 3Dimensions™ system - the fastest, highest resolution breast tomosynthesis system ever.
Clarity HD high-resolution 3D imaging: is designed to increase clinical confidence and achieve more accuracy the first time.
Intelligent 2D imaging technology: works with Clarity HD to deliver unprecedented clarity, contrast and detail at a lower dose.1,
SmartCurve breast stabilization system: is clinically proven to deliver a more comfortable mammogram without compromising image quality, workflow or dose.
Quantra 2.2 breast density assessment software: enables standardization in patient protocols, providing consistent breast density assessment.
Brevera breast biopsy system with CorLumina imaging technology, a groundbreaking real-time breast biopsy and verification system that improves the patient experience and streamlines the entire biopsy process from start to finish.
MyoSure® MANUAL device, which is designed to simplify tissue removal procedures regardless of setting, joins the MyoSure suite of gynecologic surgical products that offer simple and effective solutions to resect and remove tissue.
Fluoroscan InSight™ FD Mini C-Arm is the latest in Hologic's suite of products committed to addressing the continuum of skeletal health care, offering a simple intuitive interface with high resolution and multiple imaging options in a compact and mobile unit.