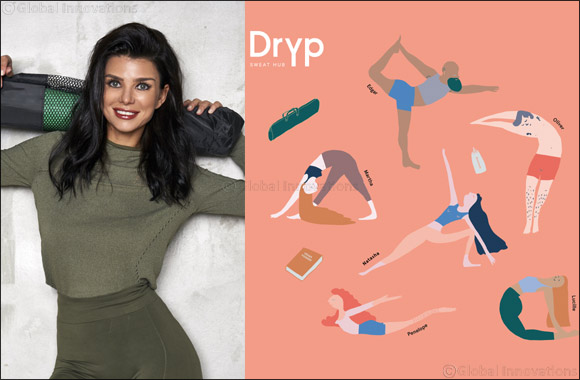 New Sweat Hub DRYP Opens in Dubai Marina offering Hot Yoga and other Hot Fitness Classes plus Raw Food Bar, the DRYP Kitchen
Dubai, UAE, February 07, 2018: DRYP - it's quite literally the hottest new fitness centre in Dubai. Describing itself as a Sweat Hub, DRYP offers a schedule of Hot Yoga and other Hot Fitness classes, all conducted in 40-degree heat and +40 humidity to deliver many amazing benefits for your body, mind and overall wellbeing.
DRYP opens its doors in Orra Building in Dubai Marina on 24th February 2018 and is the latest concept from Dubai based health and fitness entrepreneur and "serial health nagger" Natasha Rudatsenko (formally known as Natasha Stephenson) who has previously launched a number of award winning businesses including Muncherie Organic Foods and RAWR Yoga.
Natasha and her team invite you to join them in their trendy, friendly and non-judgmental sweat hub, with classes for everyone regardless of fitness level or whether they want to focus on cardio, flexibility or strength.
Classes at DRYP include Hot Yoga Classic – a 90 minute Hatha Yoga style class that consists of a series of 26 postures, including two breathing exercises. Hot Yoga Sculpt – a 60 minute when weights meets yoga class that boosts metabolism and builds muscle as you move to upbeat tracks. And Hot Yoga Express – a 60 minute Hatha Yoga style class, offering a Hot Yoga classic class for busy bees! More classes will be added in the weeks and months ahead.
Working out in a heated environment has many amazing benefits - it can help with weight loss as it has a great cardio aspect, when muscles are warm it also helps you stretch deeply and safely. It also helps to detoxify, relieve stress and boost your happy hormones, tone up, build muscle strength and heal chronic pain such as arthritis, joint aches, knee injuries, back problems and lots more. Sweat is very healing and your immune system will be strengthened from it.
Peckish before or after class? DRYP has that covered too with the DRYP Kitchen, a Raw Bar offering products freshly prepared on site, including fresh coconut water, dairy free smoothies, raw protein bars, protein shakes, kale snacks, coconut yoghurt, parfaits, fresh juices and more.
Better still and to make it even easier for you to get your daily fitness fix, DRYP has free all-day valet parking.
Classes start from AED 85. With packages available, including a 7 day unlimited intro package for just AED 150 and unlimited monthly classes for AED 750.
Fall in love with DRYP from your first sweat!