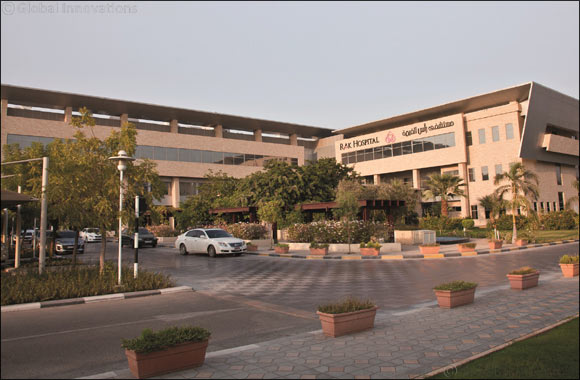 February 6, 2018; Ras Al Khaimah, UAE: Ras Al Khaimah-based RAK Hospital achieved the acclaimed JCI, USA accreditation from Joint Commission International, the world's largest health-care accrediting agency for the fourth time in a row. Implementing the highest standards of care, RAK Hospital has been able to standardize the patient care processes at all levels alongside upgrading the support services processes whilst providing holistic superlative experience to its patients.
"Now accredited for the 4th time, RAK Hospital was the first hospital in the Northern Emirates to achieve JCI, USA accreditation in 2007; I am delighted that we have successfully maintained the golden seal throughout 10 years of our operation. The re-accreditation proves yet again that our standards of patient care and clinical practice are of highest order", said Dr. Raza Siddiqui, Executive Director of RAK Hospital.
"Having established sustainable processes and systems that enable us to be in continuous and robust compliance with JCI, USA's accreditation standards, RAK Hospital has carved a place for itself among the finest healthcare institutions in the region. With a team of skilled doctors brought in from different parts of the world, the hospital boasts of excellence in several areas including cardiology, orthopaedic, laparoscopy, stem cell therapy, eye care, neurology, cosmetic surgery, rehabilitation among others. The hospital staff particularly prides in its timely service under emergency situations that has saved many lives – even in cases where patients were flown in from other countries, under dire circumstances", commented Dr Jean Marc Gauer, CEO, RAK Hospital.
With best surgeons and medical team onboard, RAK hospital has created a name for itself in offering solutions for even complicated cases in Knee replacements, Neck and Spine surgeries, Vitreo retinal Surgeries, Laparoscopic surgeries, Open heart surgeries besides many other specialties.

Besides, the Hospital has won several accolades and awards in recognition of its services and for the exceptional care that it provides. It is also accredited by Swiss Leading Hospitals and won the 'Best Healing Environment Award' in 2011, which appreciated its all-round performance stemming from an innovative concept. Becoming the first hospital in the region to have won the coveted 'MRM Business Excellence Award in 2015, the healthcare institution has been honored with Superbrand award many times and has received "The Distinguished Hospital Infrastructure Development" award by Health Magazine recently.
JCI, USA accreditation is considered as the gold standard in global health care. Joint Commission International (JCI) identifies measures, and shares best practices in quality and patient safety with the world. As the oldest and largest standards-setting and accrediting body in health care in the United States; it evaluates more than 20,000 Hospitals and inspires them to excel in providing safe and effective care. There are 1032 Hospitals across the world and 184 in UAE which are JCI, USA, accredited.