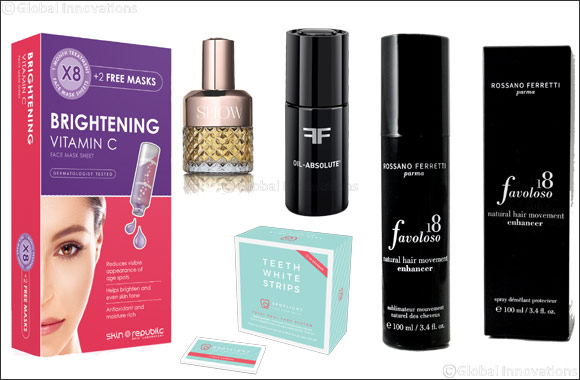 Essentials to get date-night ready!
Dubai, UAE, February 06, 2018: With Valentine's Day just around the corner, it's time to start indulging in proper skin and hair care to look your best on date-night.
From glowing skin to lustrous hair and pearly white teeth, we've selected a few beauty items that you need to add to your must-have list now!
Filorga Absolute Oil (AED 515)
A miracle rejuvenating elixir capable of reawakening skin, stimulating and restoring a more youthful complexion. Two to three drops are all that's needed to restore absolute radiance to the face.
Skin Republic Brightening Vitamin C (AED 185 for 10 masks)
Infused with brightening and radiance enhancing ingredients Vitamin C, E and 7 plant extracts which gently reduce the visible appearance of freckles, age spots and imperfections for an even skin tone. This mask revitalizes and brightens the skin whilst suppling hydrating nutrients to reveal a radiant, bright and luminous complexion. Available in a monthly treatment pack of 10 masks for the price of 8!
SHOW Beauty Decadence Hair Fragrance (AED 325)
Captivate your significant other with this beautifully rich hair fragrance that evokes a true air of mystique and awe. Lush rose water is combined with the lightest notes of coconut milk, caramel and almond butter, with a background of Madagascan vanilla, sensual patchouli and soft white musk.
Rossano Ferretti 18 Favoloso Movement Spray (AED 165)
This softening and nourishing spray invigorates the hair and offers movement and volume with a natural look that doesn't contain any build up. This treatment, suitable for all hair types works to smooth your strands and enrich the feel, vibrancy and longevity of color. It enhances light reflection to make tresses look shinier.
Spotlight White Teeth Strips (AED 295)
If you're looking to showcase the perfect smile come Valentine's Day, look no further than Spotlight Whitening. The incredible easy to use, highly effective strips are designed to keep teeth white for up to six months! Simply place the strips on your top and bottom teeth, wear for one hour every day over a two-week period for best results. The kit includes a tooth sensitive gel and a comforting gum oil to minimize tooth and gum sensitivity following the treatment.