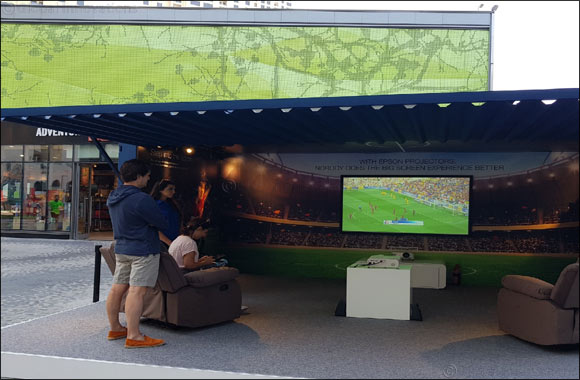 Dubai, UAE; 5 February 2018: Epson has created a new urban hangout for Dubai's sports and gaming enthusiasts, to enjoy their weekends playing games and watching sports on big screen in high-definition with Epson's EH-TW5600 home cinema projector, displayed in containers at the popular hotspots, CityWalk 2 and The Beach at JBR.
The pop-up containers will open every weekend in February, alternating between the two locations as per the schedule below:
9th & 10th February at City Walk 2
16th & 17th February at City Walk 2
23rd & 24th February at The Beach at JBR
The pop-up will provide everyone an opportunity to enjoy the ultimate home entertainment in two different scenarios- gaming and sports- within a typical home environment.
Speaking about the event, Jason Whiley, Director of Sales, Epson Middle East, says: "We want people to experience the latest innovation and possibilities in home entertainment with our EH-TW 5600 full HD home cinema projector which transforms watching sports and playing games into a memorable experience. Our projectors bring big screen entertainment of up to 300 inches to homes and they can withstand the ambient light in a family room to create true-to-life colour and brightness. Easy to set-up, they provide state-of-the-art movie theater and immersive entertainment experience, in the comforts of your home."
All Epson projectors are based on 3LCD technology for amazing colour, incredible detail and solid reliability. With EH-TW 5600 full HD home cinema projector, one can set up projector right out of the box with lens shift, keystone correction and 1.6x manual zoom. Images are bright with 2,500 lumens and the dynamic contrast ratio of 35,000:1 reveals detailed shadows. It can be connected to virtually any device.