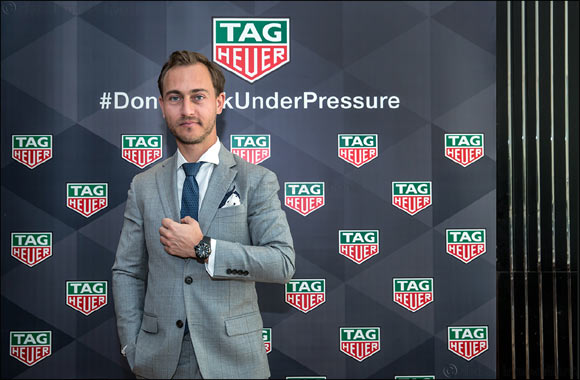 TAG Heuer's long-standing partnership with Arab Watch Guide (AWG) Founder Hassan Akhras reaches its peak in Dubai on February 2, as he takes part in IRONMAN 70.3
Sports and the values it conveys are deeply-rooted in TAG Heuer's DNA. Furthering this strong association with the sports arena, the brand will be backing established local watch influencer as he gets ready to take on his share of #DontCrackUnderPressure moments
DUBAI, 30 January 2018 – Complementing the sporting philosophy at the heart of its brand's key positioning, Swiss Watchmaker TAG Heuer's continued collaboration with Arab Watch Guide Founder and IRONMAN competitor, Hassan Akhras, will see the brand once again associated with cycling, swimming, and running as the event gets underway on February 2.
TAG Heuer has a strong link with all three sporting codes. This became evident in cycling after the brand unveiled its partnership with the BMC Racing Team in 2016, partnering 10 major races on the international circuit, including the Dubai and Abu Dhabi Tours. The brand also has a long-standing association with prestigious marathons including the New York City Marathon, the Chicago Marathon and the Paris Marathon for which it has been the Official Timekeeper and Official Watch. Swimming is also relevant to the brand and its Aquaracer collection is perfectly suited to the sport. With heritage and tradition in each of these sporting disciplines, it was a natural choice to align with watch enthusiast and blogger Hassan Akhras.
TAG Heuer partnered with Hassan Akhras, focusing on his preparations to compete in all three of these disciplines in the build-up to the much-awaited IRONMAN 70.3 which takes place in Dubai on February 2, 2018. The competition is the culmination of a journey that has seen Hassan Akhras working towards the event over the last year, and seen him compete in every triathlon and IRONMAN event in the region, including events in Abu Dhabi, Ras Al Kaimah, Bahrain, and Oman.
TAG Heuer has come to be known with icons who all reflect the common values of mental strength, a disruptive attitude and ambition. Hassan Akhras, is in this sense, a perfect fit as his year of training was replete with its fair share of trials and extreme #DontCrackUnderPressure moments that tested the boundaries of his endurance.
What makes things more exciting is the fact that Hassan Akhras, while being athletic, is by no means a professional athlete. In terms of training, he is being coached by GROWINGS coach Trace Rogers and took trips to Ras Al Khaimah and Khor Fakkan to train, as well as completing further trips and triathlons to build stamina in preparation for the Dubai event.
Speaking about this interesting partnership, Anne-Claire Richomme, Marketing Manager TAG Heuer Middle East, said, "Pushing boundaries and breaking rules are integral to our rich heritage and what Hassan Akhras is attempting to do with the IRONMAN 2018, is in that sense a perfect fit with our brand ideologies."
Hassan Akhras too was extremely enthusiastic about having found a partner that supported him and said: "Last year I decided to dedicate all of 2017 to the training and journey towards IRONMAN 70.3, and I needed a partner that would share my vision, my goals and my beliefs. It also made complete sense that my main partner would ultimately come from the watch world as I am a collector and watch blogger. I was looking for a brand that believes in never quitting, never letting go under pressure, no hiding; an avant-garde brand. It was TAG Heuer that came to mind and I decided to pitch my idea to their team, hoping they would share my enthusiasm for this journey and get on-board. It's been a tough journey with a lot of ups and downs, but I'm looking forward to February's challenge at IRONMAN 70.3"