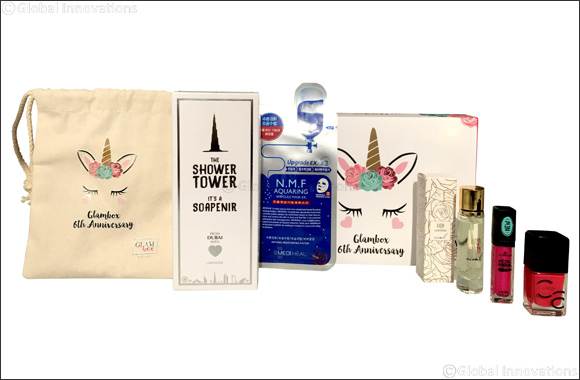 The Middle East's First & Best Loved Beauty Box Turns 6 and Celebrates with a Funky Anniversary Rainbow Box & Party
Dubai, UAE, January 29, 2018: GlamBox Middle East, the very first beauty box to launch in the region, celebrates its sixth Birthday this month. Since its launch in January 2012, GlamBox has offered women across the GCC a brilliantly convenient way of keeping up-to-date with the latest beauty and make-up trends and expertly picked beauty products that are delivered directly to subscriber's doors each month.
During its 6 years in business GlamBox has fast become a beauty box online leader, in both brand and business. Here's just a few highlights of its journey to date…
Since its last birthday, Glambox, has been acquired by a Saudi Arabia-based consortium of investors.
2017 saw GlamBox launch a number of new initiatives, including GlamBox for Him, a men's grooming subscription service and a GlamBox app – they also grew the company's subscriber base seven-fold in the last year.
GlamBox have proudly collaborated with five of Dubai's most influential beauty and fashion celebrities including Huda Beauty and Tala Samman to curate special edition boxes.
They have scooped some amazing awards – including Gulf Business 'Top 10 UAE start-up' in 2013, Top 5 Middle East Start-up to Watch' by Strategy Eye in 2014 and Forbes Middle East's Most Promising UAE Start-up in 2015, 2016 and 2017.
GlamBox expanded its footprint and launched in KSA, doubling its subscribers.
GlamBox have partnered with over 200 leading beauty brands across the region including L'Occitane, Caudalie, Dermalogica, Sally Hansen, Roger & Gallet, Arcancil, Alterna Haircare, THE FACESHOP, Givenchy and Bioderma to name just a few.
"Reaching the sixth anniversary of Glambox celebrates the role GlamBox has played in the Middle Eastern beauty market and we are extremely excited about what the future holds for GlamBox," said Matthieu Guinard, CEO of GlamBox Middle East. "GlamBox has remained committed to providing the most sought-after beauty products from leading international beauty brands and flawless customer service , so much appreciated by its community of Glamistas. ' Looking to the future, you can count on us to follow our innovative and ambitious vision to exceed the Middle Eastern beauty addicts expectations and continue to delight our customers bringing them the best of the beauty world to their doorstep, while exploring expansion into new markets and verticals".
To celebrate, GlamBox will be throwing an 'Anniversary Rainbow' party on 28th January at the fabulously colourful Lucky Voice Dubai, with the addition of a 'Unicorn Vibes' sweetie table and the star of the party will be the special 'Anniversary Rainbow' box that will contain a fabulous selection of brands and products including:
* ICONails Gel Lacquer by Catrice - ICONails Gel Lacquer nail polish by Catrice is enriched with acai oil, and will pamper your nails thanks to its nourishing, moisturizing and regenerating properties, plus a high-shine gel finish, lasting up to 7 days.
*Metal Shock Lip Paint by Essence - With ESSENCE Metal Shock Lip Paint you can build your very own metallic lip look. Nourishing for your lips, its velvety metallic finish will create the ultimate on trend look.
*N.M.F Aquaring Ampoule Max EX by Mediheal - The World's best selling Mask and Korean favourite from MEDIHEAL. This transparent mask will gently lift your face for an even and consistent absorption of the active ingredients it contains. Your skin is boosted with a complete shot of moisture, radiance and youth.
*RIVAL by Lootah Perfumes - Surrender to the mesmerising LOOTAH Elite Perfume in the fan favourite Rival scent. With a precious blend of ingredients, including a touch of jasmine and bergamot, it will take your senses through an irresistible floral journey.
* Soapenir by The Shower Tower - Celebrate the Glambox 6th Anniversary this month with the iconic Burj Khalifa from The Shower Tower. This sweet-smelling Shower Tower 'Soapenir' is a tribute to one of Dubai's most iconic creations, the Burj Khalifa. It's natural ingredients work into a soft lavender lather that will leave skin softer than velvet and your head buzzing with memories.
You can become a Glamista and subscribe to GlamBox by purchasing packages of 3, 6, or 12 months from as little as AED 90 per month. For more details, come on over to www.glambox.me, and discover the latest beauty treats and trends before anyone else.