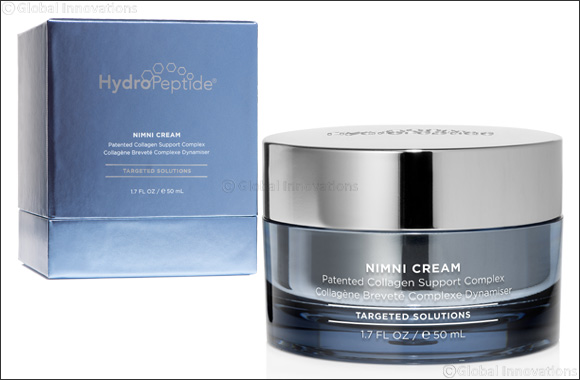 Discover Nimni Technology and significantly improve the appearance of skin's fullness and elasticity
Dubai, UAE, January 21, 2018: The sun, the environment and dear old Mother Nature herself, all take their toll on healthy skin. Luckily, a New Year brings us new advances in treatments and care and HydroPeptide, the leader in luxury peptide-based skin care, brings brand new Nimni technology to rejuvenate skin and lessen the look of fine lines and wrinkles.
HydroPeptide Nimni Cream includes a patented collagen support complex that offers targeted solutions for 'problem' areas. From the research of Dr Marcel Nimni himself, Nimni cream combines his revolutionary research combined with a time-release retinol that helps to optimize collagen production through an exclusive amino acid complex.
Nimni Cream is perfect for those skin types that are not overly sensitive, and have expression lines and concerns with wrinkles and/or loss of facial volume. Use by applying a small amount to a clean face and neck at night twice a week to start and then increasing frequency as tolerated.

Exposure to the sun and harsh contaminants takes its toll on the skin. The natural aging process also depletes the skin of essential components, causing it to lose its resilience and form wrinkles, to develop sagging, and to become discoloured. Joining the award winning HydroPeptide range, Nimni Cream focuses its efforts on a collagen based technology in order to firm the skin and improve tone and texture.
Key formulation Ingredients of Nimni Cream include Ellagi-CTM, a collagen booster that encourages synthesis to diminish the look of fine lines and wrinkles, an Enhanced Penetration Complex that enhances the delivery of active ingredients through the skins barriers, and an Anti Oxidant Complex that offers a combination of Vitamin C, Tochepherol and other key antioxidants that help stimulate and support healthy collagen.
Each formulation in the Hydropeptide range includes only the best ingredients, including technologically advanced elements that specifically target the concerns that arise with aging skin.
With the power of peptides as messenger molecules that work on a cellular level to increase hydration, visibly reduce lines and wrinkles, and enhance skin's natural luminosity, HydroPeptide offers anti-aging products, facials and body treatments in the world's most prestigious spas, resorts, medical spas and physician's offices and is now available in leading spas and salons across the UAE.
HydroPeptide Nimni Cream is available in two sizes – 15m (AED 550) and 50ml (AED 1100). Professional treatments and the retail range are available at a number of locations across the UAE including Rossano Ferretti Hair Spas, Sisters, Liv Nordic Spa, Park Hyatt Atarmia Spa, NSTYLE and TAO Spa.