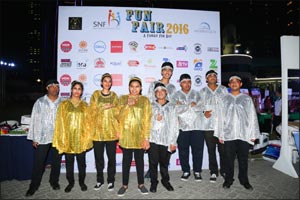 SNF's Family Fun Fair on 26th of January 2018 - Creating Awareness about Special Needs in the UAE
Dubai, 17th January 2018 – Special Needs Future (SNF) Development Center hosts its 12th edition of Family Fun Fair in collaboration with Universal American School on Friday the 26th of January from 10:30am till 8:00pm. The event is managed my Plan B. This partnership is set to provide a platform to both the special needs community and the mainstream society to come together to promote the spirit of giving, diversity and social inclusion.
Mehnaz Ahmed – General Manager of SNF says, "This event welcomes & encourages families to come together for an all-inclusive family fun day that offers a positive environment to connect with special needs families and the mainstream society."
This year the family fair will have something for every family member to enjoy, for foodies, there is a variety of food stalls including Russo's Pizzeria, Fun foods, Hawaiin Snow, Gelato, Kulfilicious & more; there is also Posh Paws setting up a petting zoo; a real treat for animal lovers; creating an inviting ambiance is Dubai Drums (Unity through Rhythm); for the dancers in the family there is a special dance competition themed "Happiness" for kids aged between 10yrs to 14yrs, School participating in this dance competition include, Dubai Scholars Private School, DPS Dubai, DPS Sharjah, Gulf Indian High School, IHS, JSS Private School & UIP School. For the reading enthusiasts, there are several children authors from the Emirates Literature Festival, like Rachel Hamilton, Dedra Stevenson, Michele Ziolkowski, Stacey Sudlow, Meetali Khanna, Diala Arslan, John & Heinke Felton visiting the event; one of the highlights of this event also includes HAWKS- Dubai Chapter Harley Bike Riders along with Bargain stalls and Kids fun corner.
To continuously inspire and create awareness about special needs, there will be Dubai Superheroes at the event, and they have made it their mission to help reintroduce hope to children who have faced any form of hardship in their lives, empower them to be the best versions of themselves and inspire them to be superheroes in their own communities, and what better way to do so than through their favorite superheroes and cartoon characters!
Event Details:
Event: SNF Family Funfair 2018
Venue: Universal American School – (Al Badia – Dubai Festival City)
Date: Friday 26th of January 2018
Time: 10:30am till 8:00pm