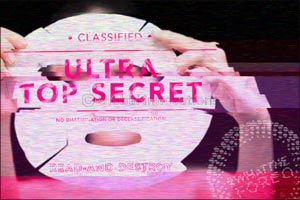 Award-winning and trusted beauty giant, FOREO, today announced the 'sheet' is sure to hit the fan in the industry when it launches a top secret, revolutionary, out of this world device to mark the New Year, and possibly trigger the biggest beauty revolution since Ancient Egyptian times.
Dubai, UAE, January 10, 2018; Shrouded in secrecy and on the helm of transforming 2017s biggest beauty trend as we know it, FOREO will unveil to the world its most innovative and smartest device yet at CES, the biggest consumer electronics show in the world, in Vegas on January 9, 2018.
FOREO's innovators and mysterious team of scientists have been working on the yet to be named skin device for four years and have promised it will give women back their lives - 5 days of it every year to be exact.
The secret FOREO committee have already started to tease the world of the impending landing and are even offering early adopters a 50% discount on their very own device.
Lovers of the traditional sheet mask, and those eager to jump on the trend will find themselves disrupted by the latest device which promises to bring a 21st Century approach to an age old beauty regime.
No more lying around motionless under a cold and wet sheet of paper on your face, all for the promise of brighter and more hydrated skin.
Adding to the mystery, FOREO CEO Paul Peros hinted at the device's USPs saying, "In this busy world, we must support our lifestyles better and being in a constant state of paralysis 30 minutes every day while a traditional slimy sheet mask works its magic, is just not convenient. These days are gone, it's a new era for sheet masks, at least it will be in a few weeks when we land!"
For further information, first chance to see FOREO's latest addition and to take advantage of the early adopters reward of 50% discount on the new out of this world device.