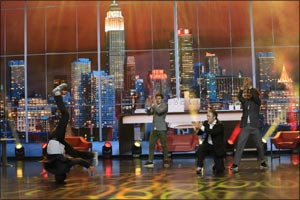 Performers from American, Ukrainian, Romanian, French, Asian and British editions of famous 'Got Talent' TV show to appear at Marina Mall Abu Dhabi
Illusionist, acrobat, singers, dancers and a ventriloquist to take to the stage in spectacular 45-minute show
Shoppers to be wowed by artists who won or came runner-up in their respective national TV talent contests
'Got Talent Live' will be held twice a day for seven days from 14th-20thJan
Abu Dhabi, January 08, 2018: Marina Mall Abu Dhabi is to welcome the international stars of TV's most popular talent show to the capital for seven-days of amazing, fun-filled performances from January 14th-20th.
The 'Got Talent Live' show will see winners or runners-up from previous series of the TV show that aired in America, Ukraine, Romania, Britain, France and Asia, take to the stage during two daily 45-minute extravaganzas at 4.30pm and 7.30pm.
The show will be made up of singers, dancers, acrobats, an illusionist, an impressionist and a ventriloquist, all of who have been invited to perform at Marina Mall Abu Dhabi by broadcasting giant MBC.
Fans are sure to recognise the performers who have entertained Got Talent TV audiences around the world over the years.
Among the stars who will take to the stage will be Japanese artist Kenichi Ebina, who won the 8th season of America's Got Talent in 2013. His bizarre style that combines acting and storytelling with different dance moves made him a firm favourite with American audiences.
Also performing will be eight-year-old Issy Simpson, who was runner up in the 2017 edition of Britain's Got Talent. The pint-sized magician impressed the judges in series 11 of the hugely popular UK TV show with her passion for tricks inspired by her grandfather, who was a professional illusionist.
Other performers include the winner of 2014's Ukraine's Got Talent, Gennady Tkachenko-Papizh, who perfectly imitates the sound of birds and many other animals using only his mouth and the winner of 2016's Romania's Got Talent, Laura Bretan, a fabulous young opera singer who has been performing since she was just four years old.
The dancing stars of the 'Got Talent Live' show will raise the roof at Marina Mall, led by circus performer, Tatiana Kundik, whose performance in 2014's Ukraine's Got Talent left the judges and audience speechless.
Tatiana's amazing slack-wire act will be wonderfully complimented by OK WorldWide. The group of highly skilled free runners and hip-hop dancers made it to the semi-final of the 9th season of Britain's Got Talent in 2015 and have been entertaining crowds across the world ever since.
Fresh from the 2017 final of France's Got Talent, inspirational dance act Florent & Justin reduced the judges to tears with their unique performance which demonstrates the daily difficulties faced by people in wheelchairs. Florent, who is himself paralysed, and his best friend Justin were brought together by their shared love of dance and offer a strong message through their incredible choreography.
Last, but by no means least, the crowd will be able to witness a performance by Shawn Chua, a ventriloquist from Singapore who participated in Asia's Got Talent in 2015. Shaun was the first ventriloquist to receive four 'yes' votes from judges who were impressed by the unique way he weaves a message into his act, creating an informative and entertaining performance.
Chelsea Copenhaver, Marketing Manager, Marina Mall Abu Dhabi spokesperson, said: "We are hugely excited to be hosting the 'Got Talent Live' show here at Marina Mall Abu Dhabi. With so many incredible performers from all over the world it's sure to be a wonderful experience for visitors and a great way for us to kick-off our thrilling calendar of events for 2018."
Standing room at the show is free of charge while seated tickets start at just 10AED and VIP seats are available for 25AED. Tickets will be available from the Marina Mall Customer Service Desk from 11thJanuary with all proceeds going to a local charity.
An MBC spokesperson said: "The Got Talent TV shows have proven to be a massive hit with audiences across the world since the first show was aired in the
UK in 2005. The format has helped to shine the spotlight on thousands of incredibly talented performers and helped to launch countless careers in the process.
"We are therefore thrilled to have a selection of some of the brightest talents from America, Ukraine, Romania, Asia, France and the UK coming to Abu Dhabi. With such a wide range of wonderful performers on stage for a fun-packed 45-minute show, we are sure there will be something for everyone to enjoy."
'Got Talent Live' will run twice every evening at 4.30pm and 7.30pm from January 14th-20th.