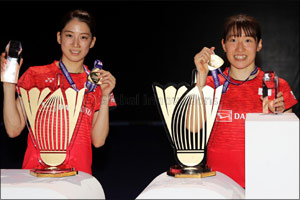 December 18, 2017, Dubai: World champion Viktor Axelsen brought down the curtains on the Dubai World Superseries Finals title today, taking his second successive title, outplaying Malaysia's Lee Chong Wei in an 84-minute long Men's Singles final, 19-21 21-19 21-15.
But it was disappointment for the thousands of Indian fans as Japan's Akane Yamaguchi claimed the Women's Singles crown in an engrossing final, beating India's golden girl Pusarla V Sindhu 15-21 21-12 21-19, Pusarla finishing second best for the second time this year to a Japanese in a major final that turned out to be a classic.
And just as Nozomi Okuhara outlasted the Indian in the TOTAL BWF World Championships final earlier this year in a 110-minute marathon, Okuhara's compatriot Yamaguchi displayed the same sterling qualities in defeating Pusarla in 94 minutes.
Yamaguchi's triumph was the finest moment of her still-young career; the magnificence of her victory accentuated by the grandness of the stage on which she delivered it.
From the beginning, it was apparent that this was a contest of warriors with contrasting qualities and approaches. Pusarla was up and running before Yamaguchi got to grips with the attacking Indian, but the match took on a different character once the Japanese found her length.
At the very end, a couple of soft errors from Pusarla gave Yamaguchi the breathing space she needed. A final error from Pusarla drew curtains on her challenge.
Unusually for her, the Indian teared up while describing the heartbreak of another loss in a major final: "Of course, it's really hard. The same thing happened in the World Championships. I have to let it go, it was a good week overall. I'd like to congratulate her. It happens."
Yamaguchi, in her understated manner, acknowledged that this was the high point of her career: "This is the biggest moment. I'm happy I recovered from my defeat to her in the group match. That it was such a challenging match and to win through that is an incredible achievement. There were long rallies, but I was leading at the end, that gave me confidence. I knew she was getting slower at the end, but I knew she had enough energy to move quickly."
In the Men's Singles final, Axelsen, younger and hungrier, wore down Lee. The Malaysian had his chances to take the match in the second, having erased a 14-19 deficit. Two mistakes at the critical point let him down.
The third game was all Axelsen's; with both players unable to score quick smash winners, Lee opted for placement and high clears; he needed to convert the sudden openings, but the final touch deserted him. Axelsen refused to let his foot off the pedal, and there was an air of inevitability about the result early in the third even though Lee got to within a few points.
"In the second game he had a big lead, I got close but at 19-all I made a mistake on serve," said Lee. "Viktor played better – he is younger. He was fast and was attacking all the way. He was quite confident."
The champion, having completed his second victory in Dubai, could only marvel at his run of form: "Amazing feeling. I feel pretty awesome, to be honest, especially after such an amazing game. It's what you dream of when you start off playing badminton as a kid. After losing the first game I tried to put on the positive glasses, so to say. I knew I had to work hard and I did that. I'm proud that I kept my cool and could go all the way.
"I seem to play pretty well here in Dubai. The tournament has been pretty good. Winning here kickstarted it all for me, and to win two titles here was great."
The men's doubles had the vocal crowd on their feet as Marcus Fernaldi Gideon and Kevin Sanjaya Sukamuljo soared to the title, and a record seventh Superseries title this season, thanks to a dazzling and dominant dismantling of their rivals.
Having defied the odds to reach the championship showdown, Indonesia's ace pair refused to be denied by their Chinese nemeses, Liu Cheng and Zhang Nan, grabbing the match by the scruff of its neck and never letting go. Their exuberant rejoicing as Gideon fittingly smashed match point to secure the 21-16 21-15 triumph showed just how much this success meant to the BWF Male Players of the Year.
"It's an extraordinary feeling to win seven titles. It's the second hat-trick of the year for us. It's really special," said 22-year-old Sukamuljo.
"We controlled the match from the start. We lost in the preliminary round but we learnt our lesson and that's why we were aggressive from the start. As we were going on court I told myself 'this is the last event in Dubai so don't waste this chance'."
His 26-year-old partner shared the physical adversity which he faced over the past few days. "The pain was really intense from my neck to my hip and I had to do a lot of therapy. But this is the last Superseries Finals in Dubai and I didn't want to miss it so I gave it 100 per cent. I am so happy now," said Gideon, who struck the last three winners to seal the deal.
China did have reason to celebrate elsewhere as Zheng Siwei and Chen Qingchen kept their Mixed Doubles kingdom intact, by retaining the title they won last season in Dubai.
Tested in both games by Finals debutants, Tang Chun Man and Tse Ying Suet, the defending champions found another gear just at the right moment to manoeuvre to a 21-15 22-20 victory. Thumping well-placed thunderbolts from deep, Zheng targeted Tse who was helpless in defending against such power and precision.
The Hong Kong challengers earned a game point in the second game but this was quickly snuffed out by China before Zheng smashed to bring up match point. Chen then directed a crisp shot towards Tse which the left-hander parried wide to spark celebrations on the opposite side of the court.
"We have always enjoyed playing together and this was an important match for us. We are pleased to win again in Dubai," said Zheng who is now partnering Huang Yaqiong.
In the all-Japan Women's Doubles finale, Shiho Tanaka/Koharu Yonemoto justified their top seeding by efficiently beating Yuki Fukushima and Sayaka Hirota: 21-16 21-15. There was little to suggest the result would be otherwise as Tanaka and Yonemoto held the upper-hand throughout.