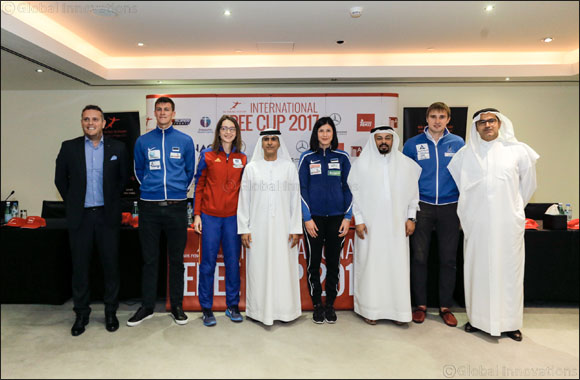 MK Fencing Academy's International Epee Cup to see the world's best in action at the Nad Al Sheba Sports Complex this weekend
Dubai, UAE, December 14, 2017: Some of the world's top fencers, including Romanian legend Ana Maria Popescu, two-time World Champion Nikolai Novosjolov and reigning women's world No1 Julia Beljajeva, will be in Dubai this weekend, regaling fans with their mastery of the sword at the 6th MK Fencing Academy International Epee Cup.
Defending women's champion Popescu, who returned from the Rio Olympics with a team gold, has won the World Cup series a record three times and picked up an individual silver at the 2008 Beijing Games. The 33-year-old has also won two World team titles.
Estonian Novosjolov, 37, won the men's epee gold at the 2010 and 2013 World Championships and picked up a silver at this year's World Championships in Leipzig. His compatriot Beljajeva won the women's epee gold at the 2013 World Championships and a team gold in Leipzig.
The duo are not the only World and Olympic medal-winners who will be competing for top honours at the 2017 International Epee Cup, which is being organised by the MK Fencing Academy in partnership with Dubai Sports Council and the UAE Fencing Federation, and will be held at the Nad Al Sheba Sports Complex on December 15 and 16.
Venezuela's Ruben Limardo, who won the men's epee gold at the 2012 London Olympics, will also be there along with Ines Boubakri, who won a bronze for Tunisia at last year's Rio Olympics, while Estonian Sten Priinits, the 2015 MKFA International Epee Cup men's champion, will be hoping to finish on the podium yet again after sharing the bronze with Kuwait's Ahmed Mohammed last year.
"As long-term supporters of this event, we are truly pleased to see how the MK Fencing Academy International Epee Cup has grown over the years," said His Excellency Saeed Hareb, the Secretary General of Dubai Sports Council. "This year, it has attracted a spectacular field that includes a World No1, and many Olympic and World champions.
"With Nad Al Sheba Sports Complex being the tournament's new home, we are expecting two engrossing days of competition at a stunning venue.
"With its success in previous years, the tournament has managed to put Dubai as one of the premier destinations on fencing's world map and we thank MF Fencing Academy, and indeed all our partners and the media, who have worked together to make it possible."
Details about the event and the stars it has attracted were announced at Wednesday's press conference at the Westin Dubai Mina Seyahi hotel.
Speaking on the occasion, Sheikh Salem Bin Sultan Al Qasimi, President of UAE Fencing Federation, said: "I take this opportunity to congratulate and thank the whole team of MK Fencing Academy for their work to host this sixth edition of the International Epee Cup.
"I would also like to extend my gratitude to all the sponsors, who we consider as our strategic partners in all we do. A special thanks to Dubai Sports Council, who work together with us at UAE Fencing for such big events to showcase and promote the sport of fencing not only in the UAE, but around the world."
"From vision to reality, the 6th MK Fencing Academy International Epee Cup has proven that dreams do come true," said Mihail Kouzev, the founder and president of MK Fencing Academy. "What started six years ago as a small competition with big spirit, today has become the UAE's leading sporting event for all fencing fans!
"Last year the event was packed with action with more than 150 fencers, representing 37 nationalities. But we expect the 2017 MKFA International Epee Cup to go even beyond the great success of last year's tournament.
"We are honoured to have our passion for this noble sport and our vision to put Dubai on the world map of fencing shared and supported by Sheikh Salem Bin Sultan Al Qasimi and the Dubai Sports Council, and we hope that the MK Fencing Academy International Epee Cup will not only be recognised as a prestigious signature event, but will also earn UAE a reputable name amongst the best in the world of fencing."
The 2016 tournament was held at the Dubai International Academy in Emirates Hill, but it will move to a new home for this year and Kouzev expects the change to add to the Cup's allure.
"We are really proud that the exceptional facilities of Nad Al Sheba Sports Complex will be the new home for the event this year," he said. "The world class venue will host the world's best fencers, including legendary names such as Novosjolov, Gascon, Popescu and Beljajeva.
"We will also see seven Emirati fencing clubs participating in the event, in both male and female categories.
"So we expect two days of spectacular fencing battles, one epic Grand Final and many unforgettable memories for both the spectators and the fencers."