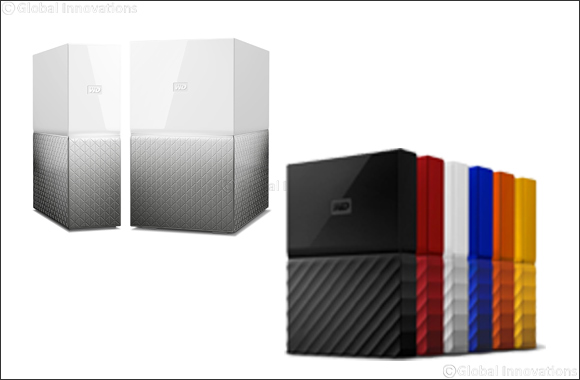 Cherish your holiday by securing your data easily with Western Digital
Dubai, UAE, December 14, 2017: WESTERN Digital Corporation (WDC) wishes everyone a splendid holiday and encourages everyone to keep their memories safe effortlessly, so their happy memories can last forever. WDC enjoys a wide range of high-tech storage devices from Western Digital (WD) and SanDisk that are essential for eternalizing the precious moments you enjoy with your family, friends and loved ones. Put your digital life on the stylish, maximum capacity My Cloud Home, iXpand Base, and My Passport.
Relive your memories through the following products from WD and SanDisk:
WD My Cloud Home:
Easy to use, the WD My Cloud Home storage device plugs directly into your Wi-Fi router at home so you can save all your digital content in one central place. Automatically back up the photos and videos on your phone, and wirelessly back up and sync your PC and Mac computers and cloud accounts.
The My Cloud Home device is home to all your content. With enough space to keep all your favorite photos, videos and files from all your phones, tablets, computers and external storage devices, in one place at home.
Use the My Cloud Home mobile app, desktop app or MyCloud.com to upload, access and share your favorite memories and stream videos saved on your My Cloud Home device anywhere you have an internet connection.
SanDisk iXpand Base:
Never worry about losing your memories again. Every time you charge your iPhone with the SanDisk iXpand Base, it automatically backs up your photos, videos and contacts for you. The iXpand Base offers plenty of room to save your files in their original quality with no worry about recurring monthly fees for Internet-based storage. Designed for everyday use with a soft rubber top, a sturdy base, and a wrap-around groove to keep your Apple Lightning cable tidy. The iXpand Base is also engineered for convenience, delivering fast-charging with 15W of power and a companion app for backing up and restoring your content to your iPhone.
WD My Passport:
We live in color. We dream in color. The reimagined My Passport drive comes in an array of luscious colors that help boost your energy, create fun and have your back(up).
The My Passport portable drive is trusted to store the massive amounts of photos, videos and music you love. Available in an array of vibrant, fun colors, the sleek style fits comfortably in the palm of your hand, so you can easily take your treasured content everywhere you go.