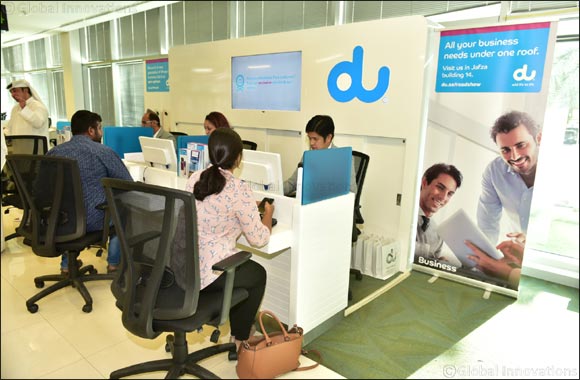 Businesses at Jafza and employees will be able to enjoy the convenience and choice at the du facility
DUBAI, UAE, 13 December 2017: UAE-based telecommunications service provider, du, recently signed a strategic agreement with Jebel Ali Free Zone (Jafza), a DP World Company. In line with this agreement, du will expand its Business Centre facilities to all Jafza employees and businesses from one easy-to-reach location. The new Business Centre is open now at Jafza Building 14, and will enable du to build stronger bonds with all Jafza customers by providing them with services and solutions that will meet and exceed their expectations through special promotions and offers.
"Our endeavour is to become the telecom partner of choice, and we are pleased to be partnering with Jebel Ali Free Zone (Jafza), and our new Business Centre in a prominent area will enable us to empower over 7,000 businesses and 135,000 employees with more choice and improved connectivity. This will bring us closer to our valued customers and enable us to educate them on the best products or services," said Fahad Al Hassawi, Deputy Chief Executive Officer of EITC, at the opening ceremony on 13 December 2017. "At du, we have a strong belief in the power of collaboration and we look forward to providing our customers with an array of services to suit their every need."
Ahmad Al Haddad, Acting Chief Operating Officer, Jebel Ali Free Zone, said: "This partnership helps give our 7,000 plus customers easy access to du's Business solutions. Jafza is always looking to enhance strategic cooperation with its partners to add value to our business community and provide customers with premier services under one roof. The service will be part of other communications solutions to a wide range of international customers to make their lives easier and to enable more efficient transactions.'
Jafza customers will benefit from a single touchpoint for all their Business telecommunications requirements such as requests for new mobile lines, mobile number portability, My Number My Identity, smartphone purchase, SIM swap, as well as contract renewals, bill payments, and customer service enquiries and more. In addition, du will provide services to large enterprises and SME customers.
du is operating similar facilities at multiple customer locations serving the employees of Government, large enterprises and Small and Medium Enterprise (SME) customers across the UAE.