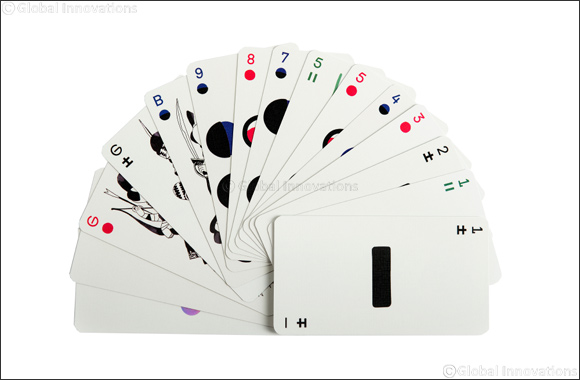 Panda, a bespoke Japanese card game exclusively launches at SOLE DXB, set to wow the world, starting with the region.
Dubai, United Arab Emirates, 13th December 2017: Panda, an iconic card game, has officially launched in the region, marking its exclusive debut at this year's SOLE DXB event. Re-created by visionaries; Hisham Lahouasnia, Scott Leder and Rajat Malhotra, Panda has rejuvenated a historical card game from Japan, an original altitude for brain power; with an ongoing aim to bring back the human interaction away from digital distractions whilst enjoying a strategically and intellectually challenging card game.
Lost through generations, and having travelled continents, languages and time, Panda was believed to have been the core foundation for admired Eastern games such as Tai Pan and Zheng Fen, and Western games such as Euchre and Bridge. Having been discovered as one of the first ever card games, the founders today have taken this social pastime accessory, and added a modern flavour to it. Enhancing the brand image and re-designing the characters to inspire all generations to be captivated by its unusual but intriguing look and feel.
Hisham Lahouasnia, Panda Co-Founder, said, "The game is played by millions, but known by only a few, and who enjoy their friend's and family's company. The rules and hands are similar to many games out there, but not many people know this ancient classic. That is why we decided Dubai would be the perfect global hub to bring this opportunity back into the scene. We are excited to be launching at one of Dubai's favourite winter events, SOLE DXB, and introducing this ultimate classic to the world again."
This unique adaptation, is considered as a climbing four-player game. Each player in turn must play a higher card (or a combination of cards) than the previous player, and commonly until a pair reaches a thousand points. The aim is to accumulate points during each round by collecting point-worthy cards, and compounded by a strategic advantage of finishing first. Panda is more than just a card game though; it is a social movement, where patrons will be able to take advantage of their past time, their social spheres, their lifestyle influence and engage in an intellectual challenge amongst each other.
Scott Leder, Panda Co-Founder, also mentioned, "We are delighted to be launching Panda in one of the most diverse cities in the world, at a much adored event this time of the year. Panda does not pride itself in being a complicated game, but one that has so much depth and so much to learn from. No one can truly call themselves a master, as it's stirringly complex, and simply addictive."
Set to be at the forefront of intelligent lifestyle gaming, Panda is a beautiful yet mysterious gaming experience, showcasing cognitive skills, in a whirlwind of entertainment.
Panda will be available in the United Arab Emirates at select Virgin Megastore outlets, for a Retail Price of 89 AED.