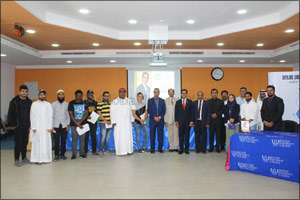 Dubai, UAE, December 12, 2017: The Corporate Affairs Office of Skyline University College organized the 10th CEO Lecture Series on November 20, 2017 at SUC Multi-Purpose Hall. The Keynote Speaker and the veteran, Mr. Rajesh Sethi, Chief Executive Officer of Noor Takaful with his vast experience in strategy, insurance, and investment banking has inspired the young minds.
During his talk, Mr. Rajesh shared his experiences where students can gain career insights and help them set their goals. He also discussed the challenges students will be facing in the future and imparted some tips on how to be a winner in career and in life. Finally, Mr. Rajesh gave a motivational speech and words of advice to inspire students to use their energy and fresh ideas for their own advantage.
The CEO Lecture Series is an event organized with the aim to inspire students through lectures and talks by remarkable business leaders.