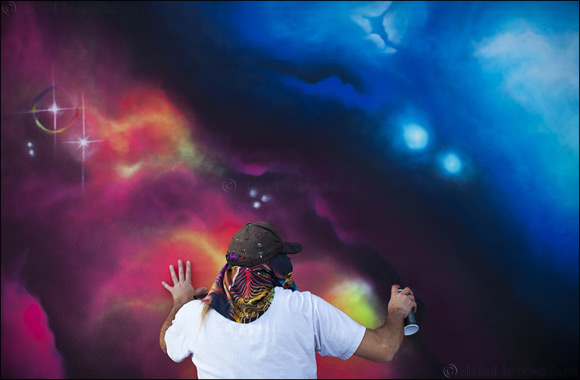 Insa's Street Art to Come Alive at City Walk on Friday 15th & Saturday 16th December
Dubai, UAE – 10th December, 2017 – NBCUniversal International Networks and OSN, the region's leading entertainment network, today announced an exclusive collaboration, partnering SYFY – the destination brand for fans of science fiction and fantasy genres – with INSA, the globally celebrated graffiti artist who created the world's largest GIF visible from space – to commission a unique piece of street art that comes alive with augmented reality (AR).
The pop-art pioneer, known internationally for his trademark stop-motion animated graffiti, or as he calls it "GIF-iti", will debut this unique piece of street art outside Green Planet at City Walk in Jumeirah on Friday 15th and Saturday 16th December. Armed with cans of spray paint and two specially commissioned stacked shipping containers as his canvas, the notoriously secretive artist – who prefers to keep this anonymity for artistic reasons – will start work on Monday 11th December, to create his interpretation of the SYFY brand.

INSA's works are created by hand-painting gigantic murals on walls, which are then photographed, re-painted and then photographed again before being converted into a loopable clip, or GIF. These paintings are then digitally brought to life with the AR app 'GIF-iti Viewer,' which can be downloaded for free from the App Store and Google Play store.

'I'm passionate about creating art which can also be viewed online or with AR, so that's why I started producing GIFs of my work so they live on in the digital space," comments INSA. "I'm excited to work on this project with SYFY and OSN as both Dubai and the sci-fi genre provide a wealth of inspiration."

Residents, visitors, street art and sci-fi fans alike can see INSA at City Walk from Monday 11th to Thursday 14th December. The final mural will come alive on Friday 15th and Saturday 16thDecember, where hostesses will be on-hand with the GIF-iti app.