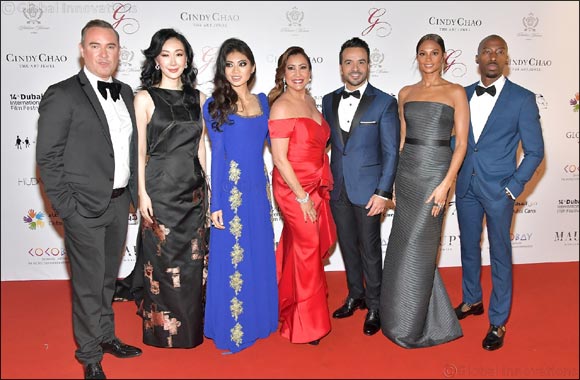 Legend of stage and screen Sir Patrick Stewart thrilled fans with 'In Conversation' at Souk Madinat
Red carpets featured tales from the across the globe, from the Australian outback and the Arabian Gulf to post-war England and Soviet Russia
Luis Fonsi raised the roof with his hits at the Global Gift Gala
Dubai, 9 December 2017: December 8th saw cinema take over the city once again with another day of red carpets and storytelling adventures at DIFF. A triple-bill of screenings at the Madinat Arena opened with the Children's Gala 'Ferdinand', from renowned Brazilian director, Carlos Saldanha. The journey continued with critically praised 'The Death of Stalin', with film talent Olga Kurylenko and Adrian Mcloughlin attending the film's MENA premiere. Award-winning Australian period drama 'Sweet Country' closed the evening with acclaimed director Warwick Thornton and actor Ewen Leslie.
With a career spanning almost six decades, Sir Patrick Stewart thrilled Souk Madinat audiences with an intriguing 'In Conversation' in the afternoon. From his early days on the stage to his genre-altering adaption of 'Star Trek: Next Generation', and the iconic role of Professor X in the X-Men franchise, Stewart's indelible charm and unparalleled insights were the talk of DIFF audiences well into the evening.
At the Dubai Film Market (DFM), the 'Women at the Helm' session was held in partnership with the Academy of Motion Picture Arts and Sciences (AMPAS). The special panel featured visionary, award-winning female directors Kimberly Peirce ('Boys Don't Cry'), Haifaa Al Mansour ('Mary Shelley'), Niki Caro ('Whale Rider') discussing their careers and how to develop characters and stories onscreen. Following the panel, John Bailey, the newly elected President of AMPAS shared his industry experience and approach with 'The Art of Cinematography'.
Friday marked the perfect day for a family outing with the screening of 'Little Spirou' from French director Nicolas Bary, at the Madinat Souk Theatre. Acclaimed director Simon Curtis walked the red carpet for the MENA premiere of 'Goodbye Christopher Robin', a biopic on the life of A.A. Milne and his beloved Winne the Pooh characters. The evening brought storytelling close to home with a special presentation at the Souk of 'Birth', with its director, Emirati filmmaker Abdullah Hasan Ahmed on hand to answer questions from the audience. At THE BEACH, audience members delved into the history of the Gulf with the world premiere of 'Grain of Sand' from British guitarist and composer Jason Carter, who gave a special live performance after the free screening.
Across Dubai stars united at the Global Gift Gala. Held at the luxurious Palazzo Versace Dubai, with the support of the Festival and UAE-based global philanthropic organization Dubai Cares, the charity gala raised funds to support projects across five continents. The glittering event was attended by Vanessa Williams, Huda Kattan, Adrian Brody and Alesha Dixon. Pop icon Luis Fonsi brought the night to a crescendo with a smash performance of his mega hit 'Despacito'.