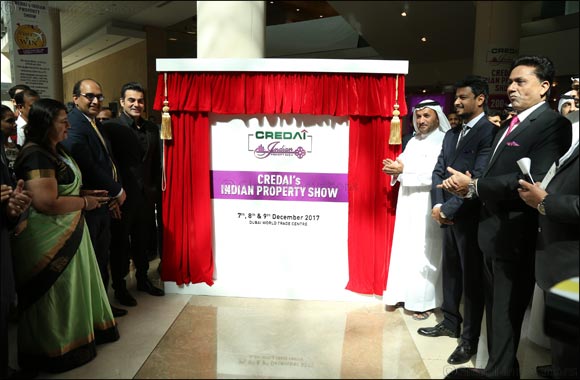 14 states and 60 cities across India
The free-to-attend exhibition will be held on 7th, 8th & 9th December in Halls 7 & 8, Dubai World Trade Center
Tempting offers for on spot purchase, flat discounts, free home through lucky draw, and complimentary tickets to global destinations including India.
Indian property price growth predicted to rise to as high as 30% per annum
Indian real-estate contribution to GDP projected to increase to nearly 13% by 2025 from 6.3% now
December 7, 2017; Dubai, UAE: More than 200 Indian property developers across 14 states and 60 cities assembled at the CREDAI's Indian Property Show that opened to public today. The popular exhibition, featuring thousands of residential and commercial projects, has sparked further interest among property buyers following the recent reforms to promote transparency in the Indian real-estate sector. Visitors will not only get a chance to closely observe the current trends of Indian property market, but can also register any related grievance at the Consumer Grievance Redressal Forum, present at the venue. The event was inaugurated by H.E. Sultan Butti bin Mejren, Director General of Dubai Land Department (DLD); Mr. Vipul, Indian Consul General to UAE; Dr. Arathi Krishna, Deputy Chairman, NRI Forum Karnataka, and Mr. Arbaaz Khan, Bollywood actor, producer and Indian Property Show brand ambassador in the presence of top CREDAI dignitaries.
The three-day property expo is being held at Halls 7 & 8, Dubai World Trade Centre from 7th to 9th December, 12noon to 8pm. Admission is free for all visitors with provision for free parking. Besides property retail, visitors can also avail tempting offers for on spot purchase, flat discounts, free home through lucky draw, on booking a property at the exhibition you can avail complimentary tickets to global destinations, and the most attractive offer is by just visiting the show you are eligible to win 6 free return tickets to India.
CREDAI will also host Smart India Realty Meet & Awards Ceremony to acknowledge the leading developers and Government Institutions in UAE and India, Banks, Dubai Land Department and UAE Channel partners
Commenting on the sector's growth, Jaxay Shah, President CREDAI, National, commented: "The present moment is a good time to invest in real estate in India keeping in view that the average rate of growth in prices has been more than 20% per annum historically and likely to rise to as high as 30% per annum. Markets like Mumbai, Pune and Bangalore enjoyed appreciation in prices of around 15% over the last one year. There is good news from smaller towns as well. Kochi is witnessing appreciation of more than 25% annually as we speak. On the macro front too, the growth rate of the real estate industry is quite intact. The sector grew at a constant annual growth rate of 19% over the last decade. The contribution of real estate to India's GDP which stands at 6.3% today is projected to increase to nearly 13% by 2025".
Reiterating the sentiment, Shub Ganguly, Senior Vice President, Sales, Prestige Group added: "Going forward, factors like rapid urbanization, increased migration to cosmopolitan and Tier 1 cities, and the government's focus on infrastructure and affordable housing will give the required impetus and push to the real estate sector. With transparency, uniformity in the sector, greater accountability and financial discipline for the developer, a uniform tax structure across the country and stable prices in the sector, there cannot be a better time to buy than now."
The Indian property witnessed a wave of optimism following the implementation of Real Estate Regulation and Development Act, 2016 (RERA) and Goods and Services Tax (GST), giving buyers the confidence to invest in an industry that is now more organized. For developers, too, the move ensures a cleansing of dubious elements, giving way to more quality projects and a proper framework to operate on.
Speaking about the reforms, Getamber Anand, Chairman & Managing Director -ATS Infrastructure limited, added: "GST is to bring consolidation in the supply chain, promising to facilitate seamless and fast transfer of goods across the country, thus increasing the working capital availability. RERA, on the other hand, has made the realty sector safe for buyers. Now all the states and union territories in India will take their property records and registration online. This would ease the documentation process which usually requires multiple visits to the government offices. Since properties bought by NRI's are highly susceptible to property frauds, by taking property records online, NRI investors would be able to keep track of their property without any hassle."
"The optimism on the back of the reforms has infused trust in the sector among NRI realty buyers and we foresee a prolific growth in the industry in the long run," said R. Srividya, General Manager, Indian Property Show, "NRIs, particularly in the UAE, have been steady buyers of Indian real-estate, and the development will give it further boost. We're also seeing an impressive number of developers from across India reaching out to expats, as evident by the turn out at the property show."
The CREDAI's Indian Property Show aims to display more than 1000 projects in a first ever large international exhibition where properties starting from 15 lakhs and above will be showcased. Projects to suit every budget and requirement will be made available to fulfill the dreams of millions of NRIs in the UAE.
Exhibitors at the show include top developers, including, Prestige and Indiabulls Real Estate as the Diamond Sponsors, ATS Infrastructure Pvt. Ltd as the Platinum Sponsor, SBI as the Gold Sponsor and Rajesh LifeSpaces Real Estate and Nanded City as the Silver Sponsor, Adani Realty, Lodha Group, Tata group, Wadhwa, Godrej, BCC Infrastructures Pvt. Ltd, EMAAR, Satya Developers Pvt. Ltd, Shree Balaji Group, Savvy Infrastructure, Ganesh Housing, Gera Developments, Paranjape Schemes Nayati Group, Mantra Properties, , Fortune Dream, Alembic Group, Mount Housing, Urban Tree Infrastructures Pvt. Ltd, Jain Housing, RWD, Isha Group, Purvankara, Landtrades Infrastructures Pvt. Ltd, Mantri Developers, Brigade, SI Property Kerala Pvt. ltd, Hi-life Builders, Builtech Palakad, Asset Homes, Sreerosh developers and Vishraam Builders, among others.
Visitors at the property show can also attend free seminars by property gurus on current property trends in India; Vaastu demystified by celebrity design consultant Rasesh Shah and Vaastu expert Dr. Padmaja Yadav; and the legal aspects of real-estate investment in India. The seminars will also feature talks about the new Indian RERA law, Taxation, upcoming projects, infrastructural development that certain cities will witness making them a lucrative option to invest.